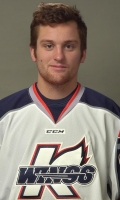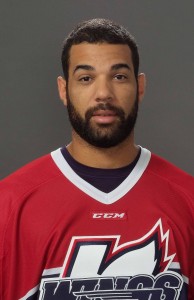 MOLINE, IL – After falling in overtime to the Quad City Mallards (19-16-1-2) by a score of 3-2 on Friday night, the Kalamazoo Wings (15-19-3-1) came back with a vengence on Sunday, defeating the Mallards 7-2. The seven goals mark a season-high for the K-Wings.
The first period was all K-Wings, as they reeled off four unanwered goals.
Just 17 seconds into the opening period, Curtis Valk, who was reassigned to the K-WIngs from the Utica Comets before the game, scored the first goal of the night.
Minutes later, Dane Fox scored his first of the night by taking a Valk pass to the net for a 2-0 K-Wing lead.
Alex Mallet scored his 12th goal of the season near the midway point of the period to give the K-Wings a 3-0 lead.
With time winding down in the first period and the K-Wings on the powerplay, Lane Scheidl pushed the puck through the legs of the Mallards' goaltender Steve Michalek with just 1.6 seconds left on the clock to put the K-Wings up by a score of 4-0.
The Mallards cut into the K-Wings lead by scoring two goals in the second period, but the K-Wings added three of their own in the third to keep the Mallards at bay.
Justin Taylor, fresh out of the penalty box, took a pass from Scheidl and fired it past goaltender Brody Hoffman, who replaced Michalek in goal. The goal by Taylor, his 10th of the season, was also a shorthanded goal.
Five minutes later and working on a five-on-three man advantage, Fox received a pass from Sacha Guimond, and blasted a one timer from the high slot and into the goal, giving Kalamazoo a 6-2 lead.
Justin Kovacs capped of the scoring for Kalamazoo at the 12:15 mark of the third, as he re-directed a Taylor feed into the top corner of the goal. It was Kovacs' second goal of the season and his first since October 24.
Both teams had 33 shot on the night.
Notes: Kalamazoo's seven goals tied a season high. Martin made 31 saves in his 15th victory of the season. Kalamazoo now has 34 points on the season, tied with Wheeling for second place in the North Division. Kalamazoo's power play went 3/12 over the weekend against Quad City, and the penalty kill went a perfect 7/7.
Kalamazoo will travel to Wheeling, West Virgina next weekend for two games against the Nailers.
By: Mark C. McGlothlen