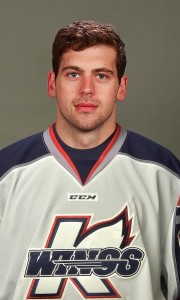 TOLEDO, OH- After dropping the first two games of the weekend, the Kalamazoo Wings (28-27-4-1) were able to snatch two points on Sunday as they defeated the Toledo Walleye 4-3 on Sunday evening.
Clay Witt started in goal for the K-WIngs and made 33 saves for his first career victory.
Wasting little time, the Walleye jumped on the scoreboard first just 4:02 into the game as Portage, Michigan native, Evan Rankin scored his 11th goal of the season.
Kalamazoo tied the game later in the period, as Tanner Sorenson raced behind the net and angle the puck off the pad of Jake Paterson, ricocheting the puck into the net, for his 13th of the year.
The K-Wings took the lead midway in the second period as Sacha Guimond scored his second goal in as many nights. Alex Mallet set the play up behind the Walleye goal, and fired a back-door feed to Guimond, whose initial try was cut off by Paterson. Guimond followed up his effort and wrapped the puck around the goal, finding an open space to tuck it in, giving Kalamazoo the 2-1 lead.
The Walleye knotted the game at two goals apiece just 3:16 later, as Rankin scored his second of the night.
Restoring their lead early in the third period, Curtis Valk scored his 13th of the season at the 1:46 mark of the frame. After the Walleye turned the puck over in their own end, Justin Kovacs sent a shot towards the goal that was initially stopped, but Valk deposited the rebound.
Taking a two-goal lead less than four minutes later, Lane Scheidl took a Ben Wilson shot and fire it past the Walleye netminder for a 4-2 lead.
Toledo remained aggressive and were able to claw back within a goal after a mad scramble in front of Witt's goal resulted in Tyler Sikura taking advantage of an unoccupied puck and tapping it into the goal.
The Walleye pulled their goaltender late in the period, but the Witt was able to turn away all the shots fired at him during the final seconds of the game as the K-Wings held on for a 4-3 victory.
Notes: Guimond and Valk each have goals in two straight games. Witt picked up his first career win. Sorenson's goal was his first since February 6 against Toledo. Paterson made 25 saves for Toledo.
Next Game: The K-Wings return home on Thursday, March 17 for the 35th annual "World Famous" Green Ice Game, presented by Flametamer, against the Brampton Beast. The Wings will wear specialty jerseys, which will be up for auction after the game, with all proceeds being donated to the Help Now! Fund. The Wings Event Center concession stands will feature green beer, Guinness, and Reuben sandwiches. Game time is 7:00 p.m.
By: Mark C. McGlothlen