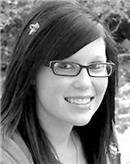 Megan Marie Carpenter, 20, of Sturgis, died Wednesday, March 30, 2016, at her home.
She was born April 22, 1995, in Three Rivers, a daughter of Bradley K. Carpenter and Joyce M. Collins. She was a resident of the Sturgis area the past six months, coming from Constantine, where she had attended school.
She was employed at J&J Discount in Howe, Ind.
She is survived by a son, Kamdyn R.J. Klinesmith; fiance Nathan Klinesmith; her parents, Joyce (Jim) Geyer and Bradley Carpenter; three brothers, Brandon Collins, Jon Carpenter and Koty Geyer; a sister, Amanda Moore; and grandparents Vera Collins and Ron Smith
Visitation will take place from 11 a.m.-1 p.m. Wednesday, April 6, 2016, at First Baptist Church in Sturgis. Services will be held at 1 p.m. at the church, with the Rev. Dennis DeMott officiating. Interment of cremains will take place at a later date in White Pigeon Township Cemetery.
Donations may be directed to the family.
Arrangements are by Farrand Funeral Home in White Pigeon.