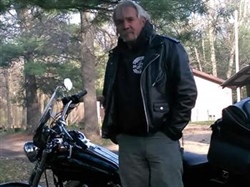 Gary Alan Bradford, age 56, of Three Rivers, passed away on Wednesday, June 15, 2016 at his home surrounded by his loving family after a courageous battle against cancer. He was born on Feb. 29th, 1960 in Three Rivers, the son of the late George Bradford and Mrs. Juanita (Davis) Ely.
Gary was a commercial truck driver for the Simpson Truck Company for over twenty years. He was an avid Harley-Davidson Motorcycle enthusiast. He made many runs and meetings with several of his close friends. He loved fishing, NASCAR, and baseball. He attended the Three Rivers Nazarene Church for the last several years and was formerly on the Praise Team at St. John's Lutheran Church before taking ill.
Gary leaves to cherish his loving memory, one son, Jacob Bradford, of Middlebury, IN.; his mother, Juanita (Don) Ely, of Three Rivers; fiance`, Linda Bowerman; one brother, Dave (Laura) Bradford, of Battle Creek, MI.; and one sister, Becky (Garth) Nash, of Oregon.
The family will receive friends from 3:00 p.m. to 5:00 p.m. on Sunday, June 19th, 2016 at the Hohner Funeral Home.
Funeral Services will be held at 11:00 a.m. on Monday, June 20th, 2016 at the Hohner Funeral Home with Pastor Bob Anderson officiating.
Interment will be held in Poe Cemetery.
Memorials may be directed to the Three Rivers Nazarene Church, American Cancer Society, or Southern Care Hospice. Envelopes available at the funeral home.