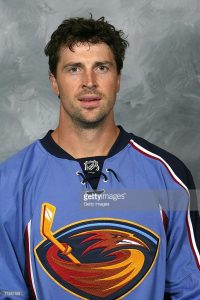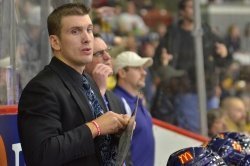 When he first came to the Kalamazoo Wings during the 2003-04 season, Nick Bootland had no idea that he would still be in the same town nearly 13 years later.
That number could rise to 16 years if Bootland fulfills his latest contract with the K-Wings as it was announced that he and the team have agreed on a three-year extension that will go through the 2019-20 season.
Being in one place this long as even caught the Bootland family by surprise. During dinner the other night, Bootland and his wife discussed that very topic.
"I moved 24 times in 10 years before I started coaching," Bootland said. "That is obviously counting moving from home to start the season in a new city and then moving back home to Canada after the season ended."
Bootland was only in Kalamazoo for 17 games in the 2003-04 season and then played for the Cleveland Barons of the AHL the following year. Returning to Kalamazoo for the 2005-06 season, the K-Wings and Bootland won the UHL Colonial Cup.
Three seasons later (2008-09), Bootland retired from the game and became the K-Wings head coach and will begin his ninth season as coach this year.
"Nick (Bootland) has been an ambassador in this community over the course of the last dozen years," said Greenleaf Hospitality Group's vice president of food, beverage and entertainment, Michael Oswald. "We're thrilled for him to remain in Kalamazoo and deliver this city a Kelly Cup in the seasons to come."
During his time as coach, Bootland has posted a regular season record of 314-209-57, and a playoff mark of 28-32.
"I'm truly thankful to Mr. (William D.) Johnston and Ms. (Ronda) Stryker," Bootland said. "When your beliefs and values line up with your ownership group, it really makes your job a lot easier. The fact that they continue to support this community the way they do is tremendous, and their ongoing investments in this building make it even better for the people in Southwest Michigan to come and visit."
t was also announced Monday that Joel Kwiatkowski has been named as the assistant coach for the Kalamazoo Wings. The 39-year-old native of Saskatoon, Saskatchewan joins the Wings in his first coaching capacity, after hanging up his skates in 2016 at the conclusion of an 18-year professional career.
Drafted 194th overall by the Dallas Stars in the 1996 NHL Entry Draft, Kwiatkowski appeared in 282 career NHL games, split between the Ottawa Senators, Washington Capitals, Florida Panthers, Pittsburgh Penguins, and Atlanta Thrashers.
"We're super excited with the experience Joel Kwiatkowski brings," Bootland said. "His playing career speaks for itself, and there's no doubt that he can help all of our players on an individual basis. He's going to work the defensive side of the bench, and I'm confident it's in good hands."
Including his time in the NHL, Kwiatkowski appeared in over 1,000 professional games across six leagues, and notched 394 career points. He spent the last eight seasons overseas, with stints in the KHL, Swiss-A League, and the Swedish Hockey League.
"It's exciting. It's a good transition from playing to coaching," Kwiatkowski said. "I love Michigan. I live in Michigan. And with the K-Wings, I think it's a perfect opportunity to get a different part of my career going."
By: Mark C. McGlothlen