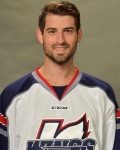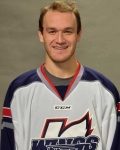 KALAMAZOO – The Kalamazoo Wings (9-14-0-2) returned home to take on the Fort Wayne Komets (13-6-3-0) on Saturday night following a six game road trip. On the road trip, the K-Wings dropped four-of-six, including a loss to the Komets on Friday night by a score of 4-2.
Picking up where they left off on Friday, the Komets hit the scoreboard first as Garrett Thompson sent a pass to Devin Mantha who put the puck in the net for an early 1-0 lead. The goal was scored on the power play.
The K-Wings pulled even early in the second period with a power play goal of their own. A Ben Wilson pass to Justin Taylor who fired a shot toward Komet goaltender Eric Hartzell, knotted the game at 1-1. The goal by Taylor was his team leading ninth of the season.
Tanner Sorenson gave the K-Wings the lead and eventual win with his fourth of the season. The Komets pulled Hartzell late in the game, but the K-Wings defense and great goaltending by Nick Riopel sealed the win for the K-Wings.
The K-Wings will remain home for three straight games this weekend. On Friday, the Orlando Solar Bears come to town on "Smitten with the Mitten" night. Shop hop with the K-Wings at the largest night market in Kalamazoo. Many local small businesses will be on hand. On Saturday, the two teams meet up again on "Ugly Sweater" night. The K-Wings will be wearing ugly sweater jerseys that will be auctioned off after the game. The first 1,000 fans will receive a custom created K-Wings winter hat.
On Sunday, the Quad City Mallards flock to Wings Event Center on Teddy Bear Toss night. Fans are encouraged to bring new stuffed animals to the game. When the K-Wings score their first goal, fans toss the animals onto the ice. The stuffed toys will be collected and donated to the Bronson Children's Hospital.
K-Wings News and Notes: Riopel is 2-0 against Fort Wayne this season and has allowed only two goals on 62 shots faced… Kalamazoo snapped an 0/27 power play streak against the Komets… Tanner Sorenson has a team-high two game-winning goals on the season… Kalamazoo is 2-3-0 against Fort Wayne this season… It was the Wings' second home game in their last 13 contests.
By: Mark C. McGlothlen