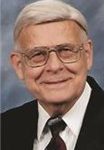 The Rev. Dale E. Gerig, age 87, of Sturgis, went home to be with his Lord and Savior Sunday evening, Feb. 12, 2017, at Sturgis Hospital.
Dale was born Nov. 13, 1929, in DeKalb County, Ind., the eighth of nine children to Menno and Zula (Sponhower) Gerig.
He attended the one-room school just down the road from the family farm. He graduated from Spencerville High School in Spencerville, Ind., and from Fort Wayne Bible College, which is now a part of Taylor University.
Dale married his high school sweetheart, Beth Cornell on June 12, 1952, in a double wedding ceremony with his brother Zenas Gerig and his bride, Esther Lehman.
He was ordained to the ministry in June 1955, after serving two years as an assistant pastor at Humboldt Park Tabernacle in Chicago.
Dale and Beth moved to Sturgis in 1955 to reopen the Missionary Church, which had been closed for a few months. Boys' and girls' clubs were a big part of their 14 years in Sturgis.
Moving to Allentown, Pa., Dale was pastor of the Missionary Church for 20 years. His last pastorate was Jamestown Church near Fremont, Ind., for 18 years.
The Gerigs moved back to Sturgis in 1989 to manage Christian Supply Center until the sale of the business. Dale became the director of the area Super 60's and had to resign in 2014 due to health issues.
Dale enjoyed visiting "shut-ins" and those in nursing homes to share with them God's love and God's word.
He is survived by his loving and dedicated wife of 64 years, Beth; a daughter, Karen (Ken) Mills; three grandsons, Kevin (Courtney) Mills, Kyle (Gretchen) Mills and Kameron (Andrea) Mills; two great-grandchildren, Raeleigh and Azariah Mills; a daughter-in-law, Carolyn (Chris) Raber; a sister, Ruth (John) Imler; two sisters-in-law, Mary Gerig and Esther Gerig; and many nieces and nephews.
He was preceded in death by his parents; a son, Kenton Gerig; five brothers, Paul, Matthias, Maurice, Zenas and Ardon; and two sisters, Eunice Gay and Lois Hetmansperger.
The family will receive friends from 6-8 p.m. Friday and 10-11 a.m. Saturday at Sturgis Missionary Church, 67080 N. M-66, in Sturgis. Funeral services honoring and celebrating the life of the Rev. Dale E. Gerig will begin at 11 a.m. Saturday at the church. The Rev. Bob Renner will officiate. A graveside committal will be held at 2:30 p.m. Saturday at Cedar Creek Cemetery, 6840-6898 CR 11A, Auburn, Ind.
The Hackman Chapel of Hackman Family Funeral Homes, 114 S. Nottawa St., Sturgis, is honored to be entrusted with the arrangements.
The family suggests those wishing to make a memorial donation in Pastor Gerig's memory consider Sturgis Missionary Church, 67080 N. M-66, Sturgis, MI 49091; or Youth for Christ, P.O. Box 382, Sturgis, MI 49091.
His obituary is also at www.hackmanfamilyfuneralhomes.com, where personal messages of support may be left for the family.