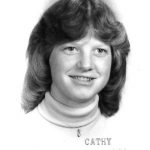 Cathy L. Rice, age 56, of Three Rivers, died Thursday, Aug. 3, 2017 at her home following a long illness. She was born on May 5, 1961 the daughter of Rolland Hackenberg and Janice (Horner-Hackenberg) Marunde. She attended Three Rivers Schools, and graduated with the class of 1979. She was married to Joe Rice on Sep. 18, 1981 in Immaculate Conception Catholic Church.
She is survived by her husband, Joe; two children, Brian (Selina) Rice of Centreville, and Amanda Rice of Three Rivers; two grandchildren, Kaden and Janelle Rice; father, Rolland Hackenberg of St. Petersburg, FL; a brother, Mike (Penny) Hackenberg of Three Rivers; a sister, Cindy Hackenberg of Kalamazoo; several nieces and nephews. She was preceded in death by her mother, Janice Marunde.
In keeping with her wishes, cremation has been conducted. The family will receive friends from 6 to 8 p.m. Tuesday at the Eickhoff Funeral Home in Mendon, and where the Rosary will be recited at 5:30 p.m. The funeral mass will be 11 a.m. Wednesday Aug. 9, 2017 at St. Martin of Tours Catholic Church, 5855 East W Avenue in Vicksburg with Msgr. Thomas Martin officiating. A luncheon will follow in the social room of the church. A private interment will take place in Moorepark Cemetery.
It is suggested that memorials be directed to either Reverence Home Healthcare & Hospice, Cancer Treatment Centers of America, or to Bronson Neurosurgery. Condolences may be expressed to the family online at www.eickhofffuneralhome.com