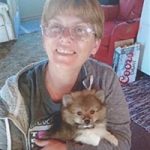 Mrs. Lisa Dee McWatters, age 38, of Three Rivers, passed away unexpectedly on Thursday, September 13, 2017. She was born in South Bend, Indiana on April 25, 1979 the daughter of Frank and Eva (Richter) Homan.
Lisa loved the outdoors and spent a lot of time kayaking and camping. Her love for nature was best seen in her garden where she used her green thumb to grow her plants and bring her flower garden into bloom. Lisa also loved riding her motorcycle around the countryside and taking in the open road.
Lisa leaves to cherish her memory, her loving husband Marty Mcwatters; parents Eva Lewis and Frank Homan Sr.; two daughters Brandy and Destiny Allstead; one step-daughter Lacy McWatters; one brother Frank Homan Jr.; five sisters: Chrystal Thill, Eva Homan, Alisha Homan, Jessica Mears, and Jerrica Hayworth; one granddaughter Izsabella Pompey; and many nieces/nephews and brother and sister-in laws.
Lisa's family will receive friends from 11:00 a.m. until 3:00 p.m. on Friday, September 22, 2017 at the Hohner Funeral Home with the Funeral Service beginning at 3:00 p.m. the same day.
Online condolences may be shared for the family at www.hohnerfh.com