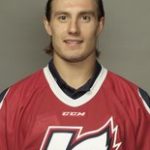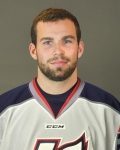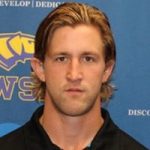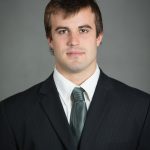 KALAMAZOO, MI – With the calendar turning to September, the Kalamazoo Wings are just over a month away from dropping the puck on their 44th season.  As the season approaches, the K-Wings have announced several play signings.
Returning to the ice this season are forwards Peter Schneider, Scott Henegar and defenseman Ben Wilson.   The K-Wings have also signed forward T.J. Stenglein.
Stenglein, 24, will be entering his rookie season as a professional hockey player.   Stenglein spent the past four years playing collegiate hockey at Michigan State University.
During his career with the Spartans, Stenglein scored 14 goals and 16 assists in 87 games.  In addition to hockey, Stenglein was named as an Academic All-Big Ten student three times.
Wilson, 26, will be coming back to the K-Wings for his fifth season.  Last season provided many career accomplishments for Wilson as he set a career high in games played, goals (4), assists (13) and points (17).
While Wilson is signed for the upcoming season, he will be out of action for the first 15 games of the season, due to a suspension that stems back to Game 2 of the K-Wings playoff series with the Toledo Walleye last season.  The first game that Wilson will be eligible to play in will be December 1 when the K-Wings play the Kansas City Mavericks.
Schneider, 26, will be back for his second season with the K-Wings following a season that saw him hit career-highs in several areas.
Schneider, who joined the K-Wings in November following a trade with the Florida Everblades.
After a slow start with the K-Wings, the New Year brought Schneider great success as he ripped off 17 goals and 28 assists in the last 40 games of the season. He ended the season on a 14-game point streak.  Schneider reached career highs in goals scored (20), assists (30), points (50) and a +/- of +8.
During the K-Wings playoff series with the Walleye, Schneider scored five goals and added 4 assists.   Schneider was also named as the ECHL Player of the Month for March (13 goals, 9 assists in 14 games).
Henegar, 27, will be returning for his second season with the K-Wings.  In 71-games, the native of Trenton, Michigan, scored 14 goals and 23 assists.
Henegar is excited about returning to the K-Wings for another season.
" I am honored to come back and put on the K-Wings jersey for another year", Henegar said.  "They (K-Wings) gave me a shot last year and I plan to continue working hard every day for this organization with this renewed opportunity."
His 14 goals placed him second among rookies on the K-Wings, but Henegar is not as focused on individual numbers as he is team success.
"On paper the numbers might not look remarkable", Henegar said, "but for me, as long as I keep working hard every day, doing what the coaches ask of me and continue creating openings for myself and my teammates, then the numbers will take care of themselves. I will continue utilizing my skills, those of my teammates and advantageous openings to help our team win".
As for the upcoming season, Henegar said the K-Wings can get off on the right foot if they do a few simple things.
"We just need to listen to our coaches and be mentally engaged every day", Henegar said.  "If you work as hard as you can, play the right way, and are 100% focused, then you set yourself up for success".
By: Mark C. McGlothlen