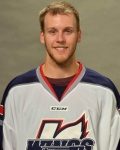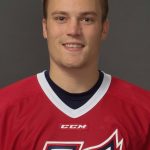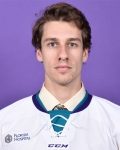 KALAMAZOO, MI – The Kalamazoo Wings have announced more signings for the upcoming season.
Returning to the team are forward Justin Taylor, defenseman Eric Kattelus and Sean O'Rourke and newcomer, defenseman Jon Jutzi.
Jutzi, 26, from Tavistock, Ontario, spent last season playing for the Orlando Solar Bears. In addition to the Solar Bears, Jutzi played six games with the Manitoba Moose of the AHL following his collegiate career at Minnesota State University, Mankato.
Jutzi said he felt that Kalamazoo was the place to play due to the fact that they expressed such an interest in him.
"I think one of the biggest reasons I decided to sign with the Wings is because of how persistent they were with me in the off season," Jutzi said. "Coach Bootland was the first one to contact me in the off season and I felt like he really wanted me to play for his team. After many conversations with him I felt like it would be a great fit for me as a player and I could bring something that would ultimately help the Kalamazoo Wings."
In addition, Jutzi is friends with a current K-Wing player, Jimmy Mullins.
" A lot of what I know about the K-Wings and Coach Bootland comes from my former teammate and good friend Jimmy Mullin,"Jutzi said.  "He had nothing but good things to say about the organization and coach Bootland. Coach Bootland has been around the league for some time now and has a lot of experience in developing players and helping them move on. I look forward to building on what the Wings accomplished last year, but also continuing to develop as a player and learning from coach Bootland and his coaching staff."
After spending time on the IR last year, Jutzi hopes to be a strong presence on the ice this season.
"I think what fans can expect from me is a steady presence on the blue line,"Jutzi said.  "I had a tough year last year being hurt for an extended period of time so I'm looking to build on my numbers offensively because I think I'm capable of more. I would consider myself a puck moving defensemen who takes pride in moving the puck up ice quickly and efficiently."
O'Rourke, 26, will be returning for his second season with the K-Wings.  Last season, the Ferris State alum saw action in 67 games for the K-Wings where he scored a goal and added five assists.
Kattelus, 30, is coming back for his seventh season as a K-WIng and eighth as a professional.  Kattelus made the switch to become a full-time defenseman last season and earned the "Defenseman of the Year" award at the conclusion of the season.
Kattelus scored seven goals and added 33 assists last season.  His 40 points tied a career high.  In 274 games with the K-Wings, Kattelus has scored 55 goals and 146 assists.
Taylor, 28, comes back for his seventh season with the team.  Seeing action in 70 games last season, Taylor scored a career-high 61 points.  The native of Mindemoya, Ontario also set career-highs with 32 goals and 29 assists last season.
In addition, Taylor holds the K-Wings all-time ECHL record in goals (137) and points (281) and second with 396 ECHL games played.  Former K-Wing Sam Ftorek holds the record with 408.
The K-Wings season kicks off on October 21st.
By: Mark C. McGlothlen