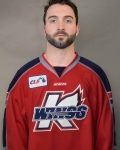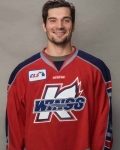 KALAMAZOO, MI – Despite being called for 11 penalties during the annual Orange Ice Game at Wings Event Center on Saturday night, the Kalamazoo Wings (4-0-0-1) held on to defeat the Cincinnati Cyclones (1-2-1-0) by a score of 5-3.    The Cyclones were assessed four penalties in the game.  With the win, the K-Wings are enjoying their best start since the 2009-10 season.
Danny Moynihan put the K-Wings on the board early in the first period with his third of the season with a power play goal.  Kyle Bushee passed the puck to Moynihan who fired it past the Cyclones goaltender Anthony Peters.
Striking back in quick fashion to take the lead, the Cyclones scored two goals just under a minute apart to take a 2-1 advantage.  Mitch Nylen and Shawn O'Donnell scored for the visiting team.
It didn't take the K-Wings long to regroup and mount a comeback.   Just over a minute into the middle period, Tyler Biggs forced a turnover and carried the puck down the ice to the goal for his second of the season.  The goal was unassisted.
Moynihan struck again for his second goal of the night later in the period.  Moynihan stuck out his stick to redirect an Aaron Irving blast to make it a 3-2 K-Wings lead.  Moynihan has scored two goals in each of his last two games.
Justin Danforth added a goal minutes later for the Cyclones to make it a 3-3 game.
While on a 5-on-3 power play goal just two minutes later, Eric Kattelus fired a puck towards the Peters, who blocked the shot, but Biggs was waiting on the doorstep to tap in the rebound for his second of the night, giving the K-Wings a 4-3 lead. Peter Schneider scored an assist on the goal, giving him at least a point in 18 straight games, dating back to March 5th of last season.
Josh Pitt added a goal in the opening minutes of the third period for a 5-3 K-Wings lead.   The K-WIngs held on for the win.
The K-Wings special teams units were busy in the game.  The penalty kill went 10-for-11 while the power play went 2-for-4.  Michael Garteig was in goal for the K-Wings.
Remaining at home, the K-Wings will host the Cyclones this Wednesday night for a 7 pm faceoff.
By: Mark C. McGlothlen