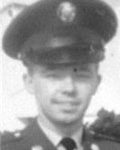 Benjamin Wright, age 69, of White Pigeon, passed away Saturday, Oct. 28, 2017, at Borgess Medical Center in Kalamazoo, following a short illness.
He was born Jan. 26, 1948, in Portsmouth, Ohio, a son of Ausie and Menada (Cable) Wright.
He was a U.S. Army veteran during the Vietnam War from 1967-1969, and a resident of the White Pigeon area since 1969.
He was employed for 32 years at Process Metals in White Pigeon as a mold maker, furnace operator and pattern maker. He was last employed as a forklift operator for Keystone and Forest River for five years.
He was a member of the New Life Christian Center in Bristol, Ind., and member of the Bible study. He enjoyed boat rides, fishing, hunting, camping and most of all, time with his grandchildren and family.
On June 26, 1972, he married Sharon A. Hentschel at Holy Angels Catholic Church in Sturgis. She survives, along with a daughter, Tabatha S. (Curtis) Collins of White Pigeon; a son Benjamin J. Wright, of White Pigeon; six grandchildren; three great-grandchildren; three sisters, Kay Munion, Cathy Copley and Charlotte Bays; two brothers, William and Gary Wright; several nieces and nephews. He was preceded in death by his parents; and three brothers.
Visitation will be from 11 a.m. – 1 p.m. Wednesday, Nov. 1, 2017, at The New Life Christian Center in Bristol, Ind., where services will follow at 1 p.m. with Pastor Scott Jones officiating. Interment will be in White Pigeon Township Cemetery.
Memorial donations may be directed to the family.