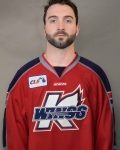 It was an early wake up call for the Kalamazoo Wings (3-0-0-1) and the Kansas City Mavericks (3-1-0-0) on Education Day at Wings Event Center on Wednesday morning. The K-Wings lost to the Mavericks in the shootout, but earned a point in the process.
The game, played in front of a sellout crowd of 5,113, included schools from Mendon, Three Rivers, Cassopolis and the Riverside Choristers from Riverside Elementary in Constantine, who sang the National Anthem.
The K-Wings took a 1-0 lead just over seven minutes into the game as Danny Moynihan scored his first of the season.  Mackenze Stewart had the assist.
Answering back in the closing minute of the period, the Mavericks Bryce Aneloski tied the game with his second of the season.
Moynihan stuck again nearly three minutes into the second period to put the K-Wings up by a 2-1 score.
Scott Henegar, fresh out the penalty box, scored on a breakaway as he sent the puck over the shoulders of Mavericks netminder Mason MacDonald.  The goal by Henegar was his second of the year.
Mike McMurtry cut into the K-Wings lead with a goal later in the period to make it a 3-2 game heading into the final period.
Tying the game midway into the third period, Matt Robertson netted his fourth of the year.
Neither team was able to put the game away in regulation or in overtime.
In the shootout, McMurtry was the lone goal scorer, giving the Mavericks a 4-3 win.   Kansas City scored a power play goal on two attempts while the K-Wings came up empty on two tries.  The K-Wings outshot the Mavericks 36-35.
The K-Wings host the Cincinnati Cyclones on Saturday, October 28, for the annual Orange Ice Game.  There will be trick-or-treating on the concourse and a Halloween Costume Contest on the ice during the first intermission.    Game time is 7 pm.
By: Mark C. McGlothlen