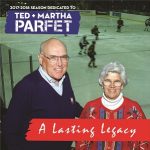 This coming season of Kalamazoo Wings hockey will be dedicated to the memory of Ted and Martha Parfet, the team's original owners.
The Parfets, who built Wings Stadium (now known as Wings Event Center) and brought professional hockey to Kalamazoo in 1974, owned the team until 2000.
Returning as owners in 2002, the couple owned the team until 2008 when they sold the team to William D. Johnston of Kalamazoo.
During the Parfets ownership, the K-Wings won three championships, two in the International Hockey League (1979, 1980) and one in the United Hockey League (2006).  In addition, over 200 players went on to the NHL and over 3 million fans attended the games.
The K-Wings will wear special "Ted and Martha Parfet" patches on their jersey's and have similar stickers for their helmets in their honor.  There will also be an on-ice logo on display all season long.
Ted Parfet passed away in 2006 while Martha passed away earlier this year.
"The legacy they brought to Kalamazoo was the opportunity for the citizens to see professional hockey up close and personal for over a 30-year period of time," Kalamazoo Wings owner Bill Johnston said in a statement released by the team. "Their stewardship of professional hockey was not just felt in Kalamazoo, but also throughout the communities that were represented in the various leagues that the K-Wings played in over that period of time."
"Their consistent support was critical to sustaining those leagues, and therefore, the opportunity for people in every community that those leagues played in to see really great hockey."
K-Wings coach Nick Bootland, who was a player on the team when they won their last championship in 2006, has fond memories of the Parfets.
"Besides being two of the greatest philanthropists in the community, they genuinely cared about the interests and well-being of their fans, players, and staff," K-Wings head coach Nick Bootland said. "One of the memories I'll cherish forever was that of handing the Colonial Cup to Ted and Martha when we won in 2006."
According to their daughter, Sally, the couple would never have expected nor wanted this honor.
"It's funny because they would not have allowed (the dedication)," Sally Williams said. " We are so happy that this is dedicated to people we loved so much and the community loved so much. It gives us a feeling of great pleasure and pride."
The K-Wings season kicks off on October 14th  in Cincinnati.  The first home game will be on October 21st against the Brampton Beast.
By: Mark C. McGlothlen