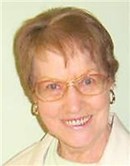 Marilyn Ritzer, 87, of Constantine, passed away on Friday, Dec. 8, 2017, surrounded by her loved ones.
Marilyn was born April 29, 1930, to the late Nora and Stanley Croll.
She is survived by a son, David; a daughter, Stephanie (Terry) Strawbridge; a grandson, Kristopher; and a very special niece, Rosie Stanard and her family, Ken, Shaun, Sarah and Ava Rose. Marilyn is preceded in death by a daughter, Lynn, and her husband, Steve.
Marilyn moved from Chicago to Three Rivers at a young age and graduated from Three Rivers High School in 1948. While volunteering as a candy striper at Three Rivers Hospital, she met Steve, and they married later that year. They were married for 58 years. In 1949, Steve and Marilyn co-founded Steve's Auto Parts in Constantine, and that led to other business ventures. She was highly active and participated in daily operations up until the time of her brief illness. Marilyn was a cherished wife, mother, grandmother and friend. She was a very generous woman with an open heart. She radiated positive energy to all those around her and spent her life making her family the center of all she cared about.
Marilyn worked for the phone company as an operator and at her mother's restaurant in Three Rivers when she was young. She was a Western Michigan University graduate and taught for many years at Constantine High School. She is fondly remembered by her many students and staff there. She also served on the Constantine school board for many years after her retirement. Marilyn loved to read and looked forward to the many lunches with her friends and old classmates. She also enjoyed spending time with her daughter and family, visiting, shopping and bird-watching. Marilyn loved the holidays and always insisted on doing all the cooking! She also had a special place in her heart for her many cats and loved to take care of them. Looking at the moon nightly, she was an avid "Trekkie" with a very strong belief in creation. Mom will be deeply missed by her family, "God has blessed us so much with her."
We would like to embrace Marilyn's spirit and invite friends to join her family with a visitation to take place from 11 a.m.-1 p.m. on Wednesday, Dec. 13, at Farrand Funeral Home in White Pigeon, with a service to follow. Burial will be in White Pigeon Cemetery.
In lieu of flowers, the family requests that friends consider a donation to St. Joseph County United Way, c/o New Animal Control Building.
A special thank you to the cardiac care unit at Borgess Medical Center for your care and support.