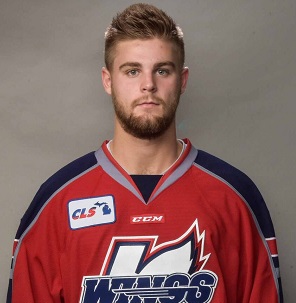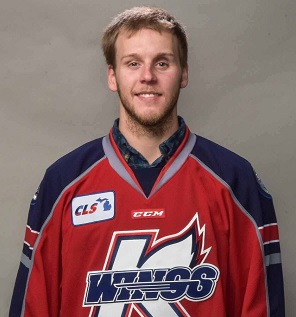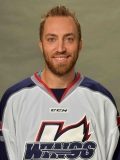 FORT WAYNE, IN – The Kalamazoo Wings (15-11-2-1)  kicked off 2018 in style as they as they knocked off the Fort Wayne Komets (20-9-2-0) by a score of 8-3 on Wednesday night.
The Komets had won 15 of their previous 18 games and had a shutout streak of 126 minutes and 31 seconds before Wednesday nights game.
In two rivals have only played one other time this season, so far, with the K-Wings defeating the Komets 6-3 on November 5th at Wings Event Center.
It only took the K-Wings one minute and 16 seconds to end the Komets shutout streak as Josh Pitt was able to redirect a rebound from a shot by Jimmy Mullin for his ninth goal of the season.
Taking a 2-0 lead just over five minutes later, Eric Kattelus scored on an Aaron Irving pass for his fourth of the season.  The goal was scored on the power play.
Taking command of the game just 18 seconds later, Kyle Bushee netted his sixth of the season for a 3-0 K-Wing lead.  The goal by Bushee also signaled the end of the night for the Komets goaltender, Michael Houser, who gave up three goals on eight shots in the first 6:18 of the game.  Houser was replaced by Sean Mcguire.
J.T. Stenglein scored later in the period to give the K-Wings a 4-0 lead.  The goal by Stenglein was his fourth of the season and third in two games.
Mason Baptista scored for the Komets minutes later to make it a 4-1 game.
In the second period, Justin Taylor scored a pair of goals for the K-Wings while the Komets Louick Marcotte scored for the home team.
Taylors second goal of the period came just 26 seconds after the Marcotte goal.  The goals by Taylor were his 17th and 18th of the season.
The K-Wings held a 6-2 lead entering the final 20 minutes.
Resembling the second period, the K-Wings scored two goals by the same player. This time Aaron Irving scored a pair of goals that sandwiched a Komet goal to give the K-Wings an 8-3 victory.
The goals by Irving were his second and third of the season.
Continuing their eight-game road trip, the K-Wings will travel to Missouri to take on Kansas City on Friday night.  They will conclude the weekend with a pair of games against the Wichita Thunder.
The ECHL announced that K-Wings defenseman Kyle Bushee has been selected to represent the Central Division at the 2018 CCM/ECHL All-Star Classic, to be hosted by the Indy Fuel on Monday, January 15th. The game will air LIVE exclusively on NHL Network.
By: Mark C. McGlothlen