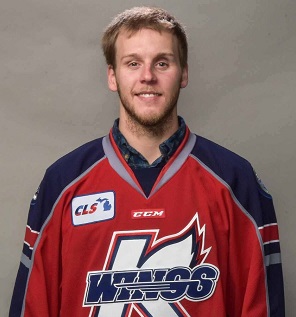 WICHITA, KS – The Kalamazoo Wings (16-12-2-1) bounced back after dropping their first game of the weekend to the Kansas City Mavericks on Friday by a score of 4-2.  Aaron Irving and Josh Pitt scored in the loss for the K-Wings.
On Saturday, the K-Wings continued their road trip by heading to Wichita, Kansas to battle the Thunder in a pair of games.
In a show of force, the K-Wings not only scored six goals but three of those goals were scored on the power play, which has been a sore spot for the K-WIngs this season.
The Thunder struck first on Saturday night as Travis Brown was able to put the puck past K-Wing netminder Michael Garteig for the early 1-0 lead.
Later in the period, Justin Taylor, who has been in fire for the K-Wings lately, tied the game at one goal apiece with his 19th of the season.  Taylor has scored 11 goals in his past 11 games.
Taking the lead early in the second period, J.T. Stenglein deposited a pass from Jimmy Mullin into the net for a 2-1 K-Wing advantage just over two minutes into the period.
Travis Ewanyk brought the Thunder back with a goal midway into the period to knot the game 2-2, but just 16 seconds later Scott Henegar sent a laser into the net to give the K-Wings a 3-2 lead.
Minutes later, the Thunder's Lane Bauer tied the game with his eighth of the season, but Justin Taylor put the K-Wings in the lead again, with his second of the night, to give the K-Wings a 4-3 lead going into the final period.  The goals by Bauer and Taylor were both scored on the power play.
Brendan Bradley gave the K-Wings a two-goal lead with a power play goal of his own in the opening minutes of the third period for a 5-3 lead.  The goal by Bradley was his sixth of the campaign.
The Thunder's Evan Polei brought the Thunder back to within a goal but Jimmy Mullin capped off the night for the K-Wings with another power play goal, his eighth of the season, to give the K-Wings a 6-4 victory.
The K-Wings are in fifth place in the Central Division with 35 points.   The Toledo Walleye lead the division with 45 points.  The Fort Wayne Komets are second with 44 points, followed by the Cincinnati Cyclones with 42 and the Mavericks with 41.
The K-Wings have scored 22 goals in their past four games.
The two teams played on Sunday, but the game was not over in time to be included in this edition.  Following Sunday's game, the K-Wings head to Boise, Idaho for a three game set with the Idaho Steelheads.
By: Mark C. McGlothlen