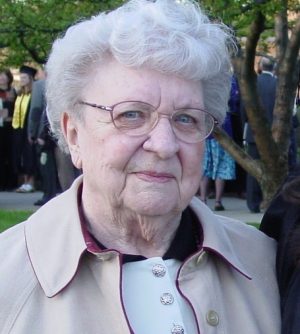 Myrtle F. Heslet, age 96, of Centreville, and formerly Sarasota, FL, passed away on Thursday, January 4, 2018 at Thurston Woods Village in Sturgis. She was born in Grand Rapids on December 1, 1921, a daughter of Earl and Hazel (Geibe) Dudley. On October 12, 1940, she married Raymond Heslet in Three Rivers. He preceded her in death in June of 1995.
Myrtle was employed by Florida Power and Light in Sarasota, FL where she worked her way up from secretary to manager. After 30 years of employment, she retired in 1986. Myrtle was a member of the Centreville United Methodist Church.
Surviving are her son Dennis (Phyllis) Heslet of Topsfield, MA, granddaughter Kristen (Paul) Galardi of Wayne, NJ, great grandchildren Abigail and Amelia Galardi, and brother Charles Snyder of Sarasota, FL. She was preceded in death by her father and mother, stepfather Clifford Snyder, and sisters June Gregory and Maxine Goss.
Cremation has taken place. A memorial service will be held at a later date at Centreville United Methodist Church with Pastor Emily Hansson officiating. Interment of ashes will occur in Prairie River Cemetary, Centreville. Memorial contributions may be made to Centreville United Methodist Church. Arrangements were entrusted to Eley Funeral Home, Centreville. Online messages may be left at www.eleyfuneralhomes.com.