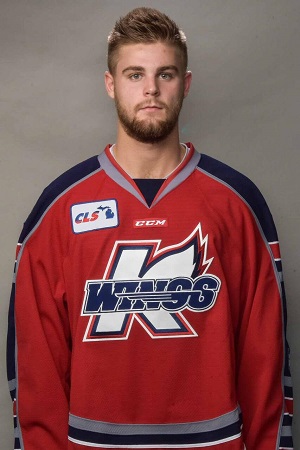 KALAMAZOO, MI -Entering Wednesday nights game against the Wheeling Nailers (28-22-5-0), the Kalamazoo Wings (27-21-3-2) were riding a five-game losing streak.
It looked as if the K-Wings would be extending that streak to six games as the Nailers led the home team by a score of 5-2 with just over twelve minutes remaining in the game.
That was all the time the K-Wings needed to mount a comeback.
Aaron Irving, who scored his first goal of the night in the second period, scored his second of the night on the power play at the 7:47 mark of the third period.
Irving struck again just 39 seconds later for the hat trick.  Kyle Blaney passed the puck over to Irving who was able to push it past the Nailers goaltender, Colin Stevens.
Trailing by a 5-4 score, the K-Wings continued their comeback push. While on the power play, Tyler Biggs sent a wrist shot past Stevens to knot the game at 5-5.
Both teams held the other off the scoreboard for the remainder of regulation, sending the game into overtime.
Just over two minutes into overtime, Josh Pitt sent the puck toward the goal  just as Irving was skating toward the net.  Irving was able to redirect the puck just over the goaltender, chipping it under the crossbar and in for the victory.
The K-Wings were 3-for-6 on the power play while the Nailers went 1-for-4.  Jimmy Mullin scored the first goal for the K-Wings.  With the win, the K-Wings move back up to third place in the Central Division, just one point ahead of the Cincinnati Cyclones.
The K-Wings and Cyclones meet on Saturday night in Cincinnati.
By: Mark C. McGlothlen