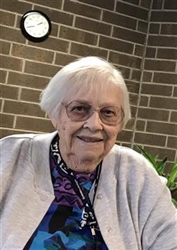 Mrs. Doris M. Wortinger passed away peacefully Friday, March 23, 2018 at Three Rivers Health at the age of 99. She was born in Cass County on her father's farm at Cranberry Lake the daughter of Paul and Mildred (Bowers) Janing. When Doris was 10 years old, the family moved to Marcellus where she graduated from Marcellus High School, class of 1937. At the age of 22, she met Kenneth Wortinger and they were married January of 1942 shortly before Kenneth left to serve his country in World War II.
When the war was over, Doris and her husband bought a home where they were to live happily together for the next 60 years. Kenneth died in 2002 and Doris continued to live in her home until August 2017 before moving to Bowman Place Assisted Living in Three Rivers.
Doris was a homemaker her entire life. She enjoyed life …especially time with her family and traveling with her husband which included camping and snowmobiling in northern Michigan. Doris and Ken had a large vegetable and flower garden. She took pride in her flowers and sharing and preserving the produce they grew. Her favorite pastimes were watching her backyard birds and Detroit Tiger baseball. She also enjoyed music, sewing, and all kinds of crafts.
In addition to her husband Ken and parents, Doris was preceded in death by brothers Delmore Buckhold and Paul Janing, and one sister Euna Abrams. She leaves behind to cherish her memory a daughter and son-in-law Teresa and Bill Rentfrow, grandsons Dr. Benjamin Rentfrow and wife Jessica, Casey Rentfrow and wife Julie, four great grandchildren, one sister-in-law Kathleen Wortinger, several nieces and nephews, and many wonderful friends including her special new-found friends at the Bowman Place.
At her request, cremation has taken place. Graveside interment of cremains will be held at 1:00 p.m. on Monday, April 2, 2018 Mt. Everest Memorial Park South, 3941 S. Westnedge Ave, Kalamazoo MI 49008. In lieu of flowers, the family requests memorial contributions made to TRH Auxiliary Nursing Scholarship Fund or charity of one's choice. Envelopes available or may be sent to Hohner Funeral Home in care of arrangements. Online condolences may be shared at www.hohnerfh.com.