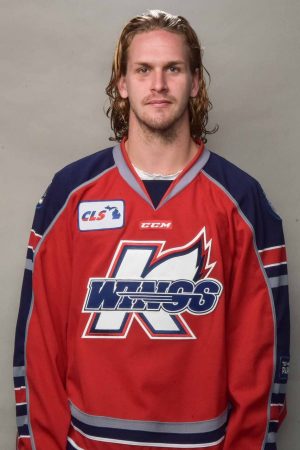 After dropping the first two games of the weekend, the Kalamazoo Wings (29-25-4-2) ended the weekend on a high note by defeating the Fort Wayne Komets (41-16-2-1) 6-3 on Sunday afternoon.
On Friday, the Komets defeated the K-Wings 6-2 at Wings Event Center.  The Komets took a 3-2 lead into the third period before putting the game away with three unanswered goals in the third.
Justin Taylor and Josh Pitt scored for the K-Wings in the loss.
On Saturday the K-Wings played host to the Indy Fuel.    Unlike the night before, it was the K-Wings who took a lead into the final period of play.
Leading by a score of 3-1, the K-Wings and Fuel ended up settling the game in overtime due to two Fuel goals in the third.
The K-Wings outshot the Fuel 49-35, including 3-1 in overtime, but it was the Fuel coming out on top as Matheson Iacopelli scored midway into overtime.
Danny Moynihan, Pitt and Taylor scored for the K-Wings.
On Sunday, the K-Wings traveled to the Allen County War Memorial Coliseum to battle the Komets for the second time in three days.
Tyler Biggs started the game out with a bang by scoring his 18th goal of the season at the 1:18 mark of the opening period.
The Komets tied the score later in the period on a goal by Gabriel Desjardins.
Josh Pitt added his third goal in as many nights to give the K-Wings a 2-1 lead.  Taking a pass from Jimmy Mullin, Pitt put the puck in the net for his 27th of the year.
The two teams traded goals in the second period as Pitt scored his second of the night for a 3-1 K-Wing lead.
Dennis Kravchenko cut the K-Wings lead to 3-2 with a goal in the closing minutes of the period.
Taking control in the third period, the K-Wings outscored the Komets 3-1 and go on to win the game by a score of 6-3.  Kyle Blaney, Kyle Bushee and Eric Kattelus scored for the K-Wings. Garrett Thompson added a goal for the Komets.
With the win, the K-Wings sneak back into the fourth playoff spot in the Central Division.
The K-Wings return home for a rare Tuesday night contest against the Brampton Beast.  Game time is 7:00 pm.
By: Mark C. McGlothlen