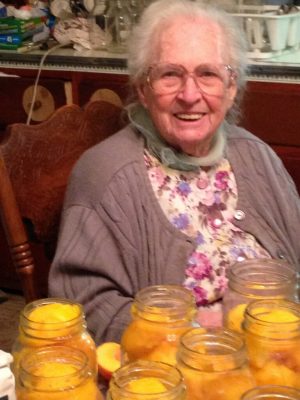 Maxine Barnell, age 94, passed away unexpectedly and quickly on Friday, March 23, 2018 at her home in Constantine. She was born February 18, 1924 in Burr Oak to Emil and Mary Klopfenstein. On July 30, 1943, she married Paul Barnell; he preceded her in death on January 24, 2008. She is survived by their five children: Dave (Jean) Barnell, Sharon Parman, Sylvia (Patrick) Gillem, Steve (Amy) Barnell, and LaVonne (Eldon) VanSickle; 13 grandchildren, 22 great grandchildren, and two great-great grandchildren; nieces, nephews, 1st cousin Billie Jean Osbon, other cousins, and many special friends.
Maxine had an interest in astronomy, history, gardening, reading, and music, singing and playing the mandolin. She worked for the Kirsch Company, and local schools and restaurants as a cook, as well as homemaking. She loved people, saw the good in everyone, and was warmly welcoming to her children's schoolmates, who adored her. She had a kind, peacemaker's heart, and a wonderful memory for family connections, keeping in touch with relatives and lifelong friends. She will be missed by many.
In 1954, Maxine made her profession to serve God, and her faith in Jesus and love for the Bible never faltered up to the very end. In her latter years, she would frequently comment "nothing matters but salvation".
She was preceded in death by her husband, parents, two brothers and their wives, and by Paul's sister and her husband.
Relatives and friends will be received Tuesday from 6 to 8pm at Eley Funeral Home, Constantine. Religious services will be on Wednesday at 2 PM at the funeral home with John Willbur, Mark Peters, and Thane Nelson officiating. Interment will follow in Constantine Cemetery. Memorial contributions can be made to National Multiple Sclerosis Society Michigan Chapter. Online messages may be left for the family at www.eleyfuneralhomes.com.