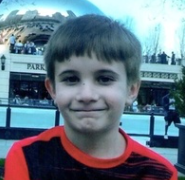 Tegan Richard VanScoik, 11, of Three Rivers, passed away Thursday, March 22, 2018 at Bronson Hospital. He was born in Tallahassee, FL on August 23, 2006, a son of Philip VanScoik and Crystal Stewart. Tegan attended Riverside Elementary School in Constantine. He enjoyed cars, especially hot wheels, being outdoors, fishing, biking and sports as well as playing his X-Box.
Tegan is survived by his parents Crystal (Greg Taylor) Stewart of Union, Philip (Mindy) VanScoik of Three Rivers, brother Brandon Wright of Florida, sisters Georgie Sanabria of Union, Jozlyn Bridges of Union, and Courtney Bridges of Union; step siblings Lillie Baughman of Niles, Gabrielle Morey of Sturgis, Austin Underwood of Sturgis, and Xander Underwood of Three Rivers, Morgan Underwood of Three Rivers; grandparents Barbara Rodman of Union, Malcolm Stewart, Jr. of Niles, Carolyn and Jerry King of Reading, and Tony VanScoik of Three Rivers; great grandmother Julia Stephenson; and several aunts and uncles.
Relatives and friends will be received Monday from 2 to 4 and 6 to 8 pm at Eley Funeral Home, Constantine. Funeral services will be held at 11 am Tuesday at Porter Baptist Church, Constantine, with Pastor Randy Peterson officiating. In lieu of flowers, the family requests memorial contributions be made to Eley Funeral Home to help the family with expenses. Online messages may be left for the family at www.eleyfuneralhomes.com.