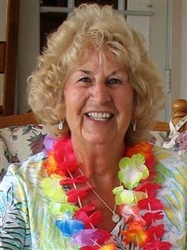 Diann Lois Davenport, age 73, of Centreville passed away on March 31, 2018 at the Good Shepherd Hospice House in Sebring, FL. She was born on April 29, 1944 in Three Rivers to Harry and Lois Mitts and was a 1962 graduate of Three Rivers High School. She was united in marriage to Larry L. Davenport, Sr. on October 26, 1963 in Howardsville, and they shared 55 wonderful years together. She retired from The First National Bank after nearly 40 years of service.
Diann enjoyed spending winters with her friends and family in Florida. She loved taking walks, riding bikes, going for boat rides and traveling. One of her most memorable trips was to Hawaii where she visited the USS Arizona Memorial in Pearl Harbor. Diann always put her family's needs above her own. She embodied incredible strength, beauty, class, and grace.
She is survived by her beloved husband, Larry Davenport, Sr. of Centreville; son Larry (Stephanie) Davenport, Jr. of Sturgis; daughter Sherrie (Bill) Spoelhof of Grand Rapids; granddaughter Alycia (Michael) DeLeeuw and great-grandson Kane DeLeeuw of Kalamazoo; sister Marilyn "Jeannie" Niedzielski of Oshtemo; and several nieces and nephews. She was preceded in death by her parents and her sisters Patricia "Patty" Mitchell and Dixie Kaiser.
A Celebration of Life will be held on Saturday, May 26, from 9:00-11:00 am at the Hohner Funeral Home in Three Rivers. An interment of ashes will take place immediately following at Poe Cemetery near Jones, with Pastor Emily Hansson presiding.
Memorial donations may be directed to the Good Shepherd Hospice House in Sebring, FL. Donation envelopes will be available at the funeral home.