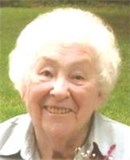 June M. Culp, age 91, of Cape Coral, Fla., formerly of Constantine, passed away on Sunday, April 8, 2018, at her home.
She was born Oct. 12, 1926, in Kalamazoo, a daughter of Neil and Florence (Taylor) Locey.
June attended school in Mendon.
On Nov. 8, 1943, she married Kenneth Culp in Mendon.
June spent years traveling with Ken while he was in the Navy, then for the union. They enjoyed dancing and being part of the community. She was an active member of Constantine Home Extension and Garden Club for many years, even having a large booth at the fair each year. June worked in assembly at Kirsch and spent countless hours volunteering at Constantine Schools with her children. She then took a position as a teacher's aide, which she did for eight years. She enjoyed decorating each year for Christmas, often enlisting the help of her kids and grandkids. She usually could be found in her quilted jackets working on crafts or setting up for garage sales.
In 1980, June and Ken began wintering in Florida, where she eventually would decide to stay and enjoy the warmth. June loved her family more than anything, delighted with each new addition.
Surviving are her sons, Kenneth (Andrea) Culp Jr. of Cape Coral, Fla., Patrick (Patricia) Culp of Sturgis and Michael (Vanessa) Culp of Constantine; daughters Sue Regtuyt of Cape Coral, Fla., and Cindy Schrock of Three Rivers; 17 grandchildren; 30 great-grandchildren; and five great-great-grandchildren.
June was preceded in death by her parents; her husband, Ken, on Nov. 4, 1992; grandsons Jeff Culp and Jared Culp; granddaughter Cassie Schrock; great-grandson Mason Kampars; son-in-law Elbert Regtuyt; and sisters Betty Little and Dorothy Lyons.
Relatives and friends will be received from 5 to 7 p.m. Friday at Eley Funeral Home in Constantine. Religious services will be held at 11 a.m. Saturday at Constantine United Methodist Church, with Pastor Tiffany Newsome, officiating. Interment will be in Constantine Cemetery.
In lieu of flowers, memorial contributions may be directed to Constantine Food Pantry or Methodist Church Kitchen.
The family would like give special thanks to Josie for all the years of loving care she gave to June. They also would like to thank Hospice for all they have done.