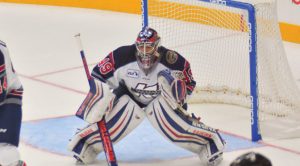 When the Kalamazoo Wings take the ice this fall, there will be a very familiar face missing from the lineup.  Longtime goaltender, Joel Martin, announced his retirement from hockey.
Kind of, that is.
Fans will now be able to see what Martin, 35, can do off the ice for the K-Wings as he was named as the new assistant coach.
During his 15-year playing career, Martin played for 14 teams in seven different leagues, including a season in Denmark.
Beginning his career with the K-Wings with the 2004-05 season, Martin played a total of nine seasons with the K-Wings.
The wear and tear on his body was beginning to hamper Martin, prompting him to call it a career.
"I was starting to have some issues with my body that were making it extremely difficult to keep up with the daily grind that comes with professional hockey,"Martin said.  .
After helping lead the K-Wings to a UHL Colonial Cup Championship in the 2005-06 season, Martin left the K-Wings for the ECHL and AHL.
Martin returned to the K-Wings in 2008 for a season and then returned for a final time in 2012 and played for the K-Wings until his recent retirement.
Looking back on his time as a K-Wing player, Martin will have many fond memories. "All the friendships I've made over the nine seasons in Kalamazoo are a highlight", Martin said. "As well as passing Georges Gagnon as the franchise leader in wins was special."
Coaching was in his long-range plans, but due to nagging injuries, the future became his immediate present.
"I was hoping to find a solution for some of the injuries I was dealing with so coaching was really on the back burner until I realized playing wasn't going to be an option," Martin said.
Martin racked up several impressive milestones and records as a member of the K-Wings.  Martin ranks first in K-Wings history (44 years) in wins with 229, 21 shutouts, 422 games played, 24,755 minutes played and 12,310 saves.
"It's extremely humbling to be in the company of the K-Wing  greats of the past and an honor to be part of history with those guys," Martin said of his accomplishments.
His achievements don't stop there.   He leads the ECHL record books with 9 Goaltender of the Week awards and three 30-win seasons.  Martin is also second in games played with 394 and minutes played 22,962. His 199 ECHL wins are good for fourth place.
Head Coach Nick Bootland, who was a teammate of Martin's on the K-Wings championship team, had nothing but praise for newly minted coach.
"Joel Martin is fueled by an unrivaled passion," head coach Nick Bootland said in a press release. "He has watched the game from a different perspective, and he is a wealth of knowledge who will provide great insight.
"As a player, he showed an unbelievable attention to detail, and nobody could ever outwork him. I fully anticipate those traits carrying over into his coaching career."
Martin is equally excited about his new venture with Bootland. "I have learned so much from Nick as a teammate and playing under him as a player. I really look forward to learning so much more as a coach from his extensive experience," Martin said.  .
As for saying goodbye to his playing days, Martin is ready for a new challenge.
"It would have been harder had I been physically able to play,"  Martin said. "I'm ready and excited for the next step. I Couldn't be happier for the opportunity to stay in the place I consider home to start the next phase in my life."
By: Mark C. McGlothlen