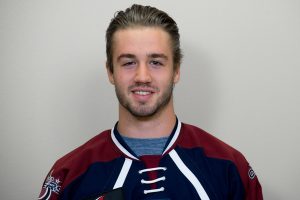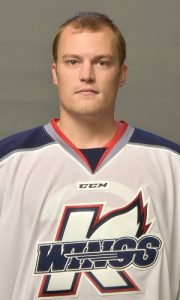 By: Mark C. McGlothlen
With their 45th season of hockey quickly approaching, the Kalamazoo Wings are busy building their roster for their upcoming milestone season.
The K-Wings, looking to fill the void in net that was created by the retirement of longtime goaltender Joel Martin, have traded forward Scott Henegar to the Tulsa Oilers for goaltender Jake Hildebrand.
Hildebrand, 25, may be familiar to those who follow collegiate hockey.  The native of Butler, PA, played collegiate hockey at Michigan State University.  Hildebrand has many special memories of his time as a Spartan.
"There are so many memories I have that it's hard to pick just a couple to go back and remember," he said.  "But I'd have to say the outdoor games we played at Soldier Field as well as Comerica park throughout my 4 years will be something I'll never forget.  My junior season we were also one point away from winning the Big 10 and it came down to the very last game so that was pretty exciting as well."
Following his college career, Hildebrand signed a one-year contract with the AHL Rockford IceHogs, which also earned him a tryout with the Chicago Blackhawks of the NHL.
"I was going into my first full season as a professional so I was just trying to take everything in and soak up as much as I could," Hildebrand recalled.  "I was fortunate enough to play in the festival game at the United Center, as well as dress and back up for a preseason game. It was great to be around guys like Scott Darling and just see how he approaches his everyday tasks and how he prepares for things."
Hildebrand is excited to join the ranks of the K-Wings and is familiar with the organization.
"Once I found out I had been traded to Kalamazoo I was really excited and happy to be a part of a great organization," Hildebrand said.  "I've had multiple friends and ex-teammates that have played with the K-Wings and they've had nothing but great things to say about the playing and living there."
In addition to the Oilers, Hildebrand has also played for the Indy Fuel and Allen Americans, so he is  familiar with the team on the ice as well.
"I didn't play against Kalamazoo too much, but I do remember they were a hard team to play against every night," Hildebrand said. "I'm looking forward to playing for a coach like Bootland, he seems to expect a lot out of his players and runs a great team."
Another bonus for Hildebrand is that he will have Martin as an assistant coach.
"Having Joel Martin as an assistant coach was one of the biggest things that excites me about playing for Kalamazoo," Hildebrand said.  "With the experience he has as a goalie, as well as having a coach who knows goalies with you there everyday isn't something that happens very often in the ECHL, so i'm going to take advantage of that as much as I can."
The K-Wings also resigned longtime player, Eric Kattelus for the 2018-19 season.  Kattelus, 31, will be returning for his eighth season with the team.