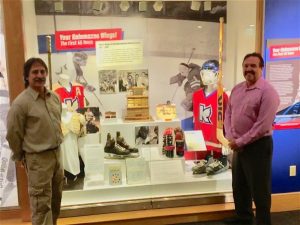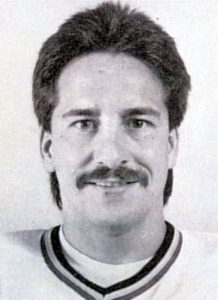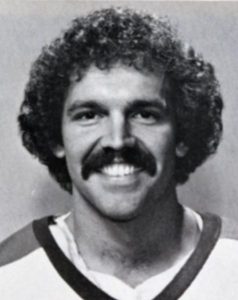 As the Kalamazoo Wings celebrate their 45th Anniversary this season, they are going to reach back into their past and retire a pair of numbers.
Kevin Schamehorn, who played for the K-Wings from 1976-79, and then again from 1981-85 and finally rounding out his career in 1990, will have his number 26 retired.  Schamehorn, who was a fourth-round draft pick of the Detroit Red Wings in 1976, holds the K-Wings franchise record for points with 474 and games played with 495. In addition, Schamehorn ended his career tied with fellow K-Wing alum, Mike Wanchuck for the franchise lead in goals with 239. Schamehorn played 10 games in the NHL with the Red Wings and Los Angeles Kings.
When the phone call came to Schamehorn, he didn't recognize the number and almost didn't take the call!
"I almost didn't answer it (the phone)," Schamehorn said.  "It was Joe (K-Wings former broadcaster) and he said we are going to retire your jersey, what do you think of that?".  Schamehorn said that he was both excited and overwhelmed to hear the news. Schamehorn's number 26 will be retired on opening night, October 19th when the K-Wings host the Fort Wayne Komets.
The other honoree will be Georges Gagnon.   Gagnon played for the K-Wings from 1979-87. At the end of his career, Gagnon was the K-Wings winningest goaltender in history with 196 wins.  The record stood for 30 years until he was surpassed by another K-Wing legend, Joel Martin, in 2017. Gagnon was a part of both of the K-Wings back-to-back IHL Turner Championships in 1979 and 1980.  Gagnon's number 1 will be retired on January 19th when the K-Wings host the Toledo Walleye.
"I was shocked", Gagnon said upon learning of the honor. "I just couldn't believe what they were telling me," Gagnon continued.   "I couldn't be more proud to be a part of the Kalamazoo Wings and this is just the icing on the cake."
In addition, the Kalamazoo Valley Museum has a new exhibit "Your Kalamazoo Wings!  The First 45 Years." The exhibit opened on September 27th and will run through March 31, 2019.  The exhibit was created to celebrate the milestone and give a glimpse into the cities treasured professional team to those who may be unfamiliar with them.   Items in the exhibit are on loan from current and former players, fans, the K-Wings organization and the Hockey Hall of Fame. The museum is located at 230 North Rose Street in downtown Kalamazoo.
By: Mark C. McGlothlen