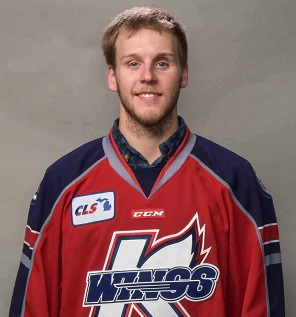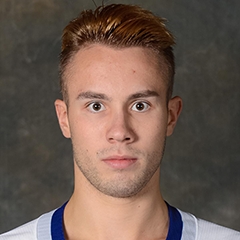 A pair of goals by Justin Taylor and a 48-save performance by goaltender Ivan Kulbakov helped propel the Kalamazoo Wings (5-10-01-) to a 6-4 victory over the visiting Wheeling Nailers on Tuesday night at Wings Event Center.
After dropping their previous six games, the K-Wings came out firing on Tuesday night by scoring three consecutive goals in the first period.
Matt Joyaux started the scoring with his first goal of the season and as a professional, just 1:39 into the opening frame.  Just over four minutes later, Chad McDonald was the recipient of a lucky bounce of the puck in front of the net to score his third of the season.  Chris Collins gave the K-Wings a 3-0 lead just over two minutes later with his sixth of the season, a shorthanded tally.
The Nailers made some noise later in the period as Renars Krastenbergs netted a pair of goals to make it a 3-2 game at the end of the period.
Justin Taylor gave the K-Wings a 4-2 lead in the second period, his 11th of the season.  The goal by Taylor was the lone goal of the period.
The two teams each scored a pair of goals in the final period.   The Nailers Winston Day Chief scored fourth goal of the season early in the third.   Taylor scored his second of the night later in the period to give the K-Wings a 5-3 lead.   An empty-net goal by Alex Mikulovich gave the K-Wings a 6-3 lead with under three minutes remaining in the game.  Day Chief notched his second of the night a minute later, but the K-Wings held on for the victory.
Kulbakov stopped 48 of the 52 shots he faced for his first win as a K-Wing.  The K-Wings had 28 shots on the night. There were 82 penalty minutes in the game, but neither team was able to cash in on their power play opportunities.  The two teams will meet again on Saturday night in Wheeling. Before that game, the K-Wings will travel to Reading, Pennsylvania to batter the Royals. The game against Reading will be the only match up between the two teams this season.
The K-Wings will return to Wings Event Center for three games on December 7, 8 and 9.  In total, the K-Wings will play on home ice 11 times during the month of December.
K-Wings News and Notes:
200th Game:  Forward Colin Jacobs played in his 200th ECHL game on Tuesday night.
Wheeling vs. K-Wings:  The two teams have met a total of 25 times in the past five years.  This season, the two will battle eight times, with two of those meetings happening this week. As of now, the all-time record between the two teams is 12-12-1-1.
By: Mark C. McGlothlen