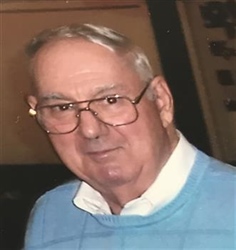 Louis Steve Baima Jr., age 82, of Three Rivers, passed away on Friday, November 2, 2018. He was born on July 22, 1936 in Houghton, son of Louis and Lena (Noncitina) Baima.
He graduated from White Pigeon High School in 1955. On September 2, 1956 he married the love of his life Marjorie Garber. Louis was an insurance salesman by trade and went on to work for AAA for 28 years before retiring in 1991. He was a member of the Messiah Lutheran Church in Constantine. He was a life member of the Fraternal Order of the Elks, a member of the American Legion, and an Eagle. In his free time Louis loved to travel his favorite place being Aruba.
Louis is preceded in passing by his parents, daughter: Connie Baima, and sister: Anita Sutherby.
He leaves to cherish his loving memory his wife of 62 years: Marjorie Baima; daughters: Lisa (Jack) Ludwig of Three Rivers and Christine Baima of Hudsonville; and grandchildren: Madison and Kalvin Ludwig.
In accordance with the family's wishes services will take place at Hohner Funeral Home of Three Rivers. A visitation service will be held on Monday, November 5, 2018 from 1 to 3 p.m. and 5 to 7 p.m. The funeral service will be held the following day, Tuesday, November 6, 2018 at 11 a.m. with Pastor Chris Laughlin officiating
Interment will be held at Constantine Cemetery following the service.
Memorials made in Louis' memory may be made to The Messiah Lutheran Church of Constantine. Envelopes are available at Hohner Funeral Home.