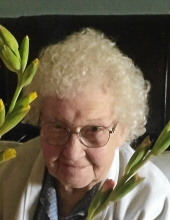 Tiny Patience Burchard, age 96, of Mountain Grove, Missouri and a former longtime active resident of Sturgis passed away Thursday, January 24, 2019 in Mount Grove.
She was born on February 13, 1922 in Gravois Mills, Missouri daughter of Harley E. and Nellie (Conner) Holst. She was one of nine brothers and four sisters. Her parents owned a farm where they all resided and lent a hand.
On December 21, 1939 she married Robert W. Burton in Boonville, Missouri. Robert passed away onApril 16, 1974 after 34 years of marriage. Tiny married Harold Chapin on July 25, 1975. Harold passed away January 1, 1989. Tiny married Luther Burchard August 22, 1994. Luther passed away January 28, 2008.
Tiny spent her early years in Missouri before moving to California in 1942 with Robert and their son Dwain, born in August of 1940. While in California, the couple secured jobs in the shipyards building ships for the war. During their residence in California, daughter Joyce was born in September 1943. Following the war, they moved back to Missouri only to find no employment. From the encouragement of a brother who had moved to Sturgis, Michigan and spoke of plentiful jobs, they packed their belongings and made the move in 1947. Tiny began working at Kirsch Company in 1949. During that time, her third son, Kevin was born in 1955. Tiny retired from Kirsch Company after 30-years of employment in 1979.
Tiny was a founding member of the Sturgis Wesleyan Church (Radiant Life Church) in Sturgis. She was an active member serving in various areas of the church; Sunday school teacher, choir member, youth leader, singing solos, home builder's class, church board. She loved and served the Lord Jesus Christ with a steadfast heart. She enjoyed quilting, canning, gardening and learning to play the organ. In her later years, she volunteered her time by visiting with residents at Thurston Woods Nursing home twice a week. Even though she was older than many, she brought joy to both staff and residents.
Upon retiring from the Kirsch Company in 1979, Tiny would spend her winters in Zephyrhills, Florida. While in Florida, she volunteered at a local hospital and was involved at the Zephyrhills Wesleyan Church.
Tiny is survived by her brother Dewey Holst of Missouri; daughter Joyce (Bob) Aldrich of Coolidge, Arizona; son Kevin (Rose) Burton of Sturgis; daughter-in-law Marilyn Burton of Branson, Missouri; seven grandchildren – Wendy Grandstaff, Robbie Miller, Justine Burton, Dwain Burton, Jason Burton, Angela Tabb and Sean Burton; fourteen great grandchildren and several great great grandchildren.
Tiny was preceded in death by her parents, three husbands, son Robert Dwain Burton, eight brothers and four sisters.
The family will receive friends from 5:00 to 8:00 P.M. Monday at the Hackman Chapel of Hackman Family Funeral Homes, 114 S. Nottawa St., Sturgis, MI 49091, 269-651-2331. Funeral services celebrating the life of Tiny Burchard will be held at 11:00 A.M. Tuesday at the Radiant Life Church, 907 N. Nottawa St. in Sturgis. The Rev. Ryan Bibb will officiate. A graveside committal will follow the service at Oak Lawn Cemetery in Sturgis.
The family suggests those wishing to make a memorial donation in Tiny's memory consider the Radiant Life Church, 907 N. Nottawa St., Sturgis, MI 49091 or the National Kidney Foundation of Michigan, 1345 Monroe Ave NW #140, Grand Rapids, MI 49505.
The obituary is also at www.hackmanfamilyfuneralhomes.com where personal messages of support may be left for the family.