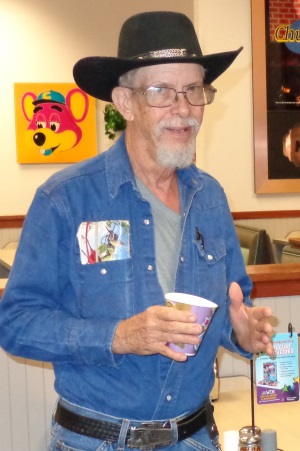 Mahlon Lee Tucker, age 77, of Centreville, passed away on Friday, April 12, 2019 after sustaining injuries in a traffic accident west of South Bend.
Mahlon Lee Tucker was born on July 20, 1941 in Wichita, Kansas.  Mahlon was many things to everyone in his life – Son, Brother, Husband, Father, Uncle, a Grandpa to ten grandchildren, Great-Grandpapa to three great-grandchildren, Great Uncle and Friend.  He was a man of uncommonly good humor, a teller of tall tales and jokes alike. A man known by many names – Tucker, Uncle Taco, Loco Gringo, Old Man, and the Smiley Face Trucker due to the yellow smiley face placard on the front of his semi tractor.
Shortly after graduating in 1959 from East High School in Denver, Colorado he enlisted in the United States Air Force and served from 1960 to 1964 with a rank of Airman 2ndClass. Later in life Mahlon re-joined the military and served in the United States Army Reserves with a rank of Staff Sergeant. He was a man who learned a strong work ethic from his grandfather who taught him to drive a semi truck in the oil fields at the age of 12.  This work ethic endured throughout his entire life – from a newspaper route as a young boy in Colorado, to a little tasty freeze and Beech Aircraft in Kansas where he met his wife Vickie, to working 25 years for General Motors before retiring.  It wasn't long after retiring from General Motors that he decided that sitting around growing moldy was not for him and Mahlon was once again back to work.  Throughout the remaining years of his life he was employed as a machine operator for Crocker Plastics, bus driver for the St. Joseph County Commission on Aging, substitute bus driver for Centreville Public Schools, jack of all trades for Pugh's Midway Amusement, and his greatest love of all – semi-truck driver. Mahlon drove truck for nearly 20 years for such companies as Pace, Team Transit, Morrison Trucking, Load n' Go, and Frontier Bulk Transport.  He was a man that looked at life as an adventure and from the wheat fields of Kansas to the sandy beaches of California, to the snow-covered majestic mountains of Colorado to the beautiful Islands of the Azures, to Portugal, France and Spokane, Washington before moving onto the Great Lakes of Michigan and nearly every state from east to west, north to south did he travel before leaving this earth on April 12, 2019 as a result of a Semi/Auto accident on another long road adventure.
Surviving Mahlon are his children Kelly (Jeffery) Marburger of Peru, IN, Shannon (Glenn) St. Louis of Centreville, and Shawn Tucker of Constantine; grandchildren Natasha Tucker, Shyanne St. Louis, Wesley Tucker, Christal Tucker, Alundra St. Louis, Kalep St. Louis, Sean Tucker, Kloiee Tucker, Jenna Bent, and Anthony Bent; great grandchildren Wyatte, Eleanor, and Ashton; nephew Tracey Pierce; nieces Cherie Pierce and Kathryn Tucker; great niece Sophia; great nephews Joshua and Greyson; and brother David Tucker of Denver, CO.
Mahlon was preceded in death by his parents, wife, son Shane M. Tucker, and brother Thomas Andrew Tucker.
Relatives and friends will be received Thursday, April 18 from 5 to 9pm and Friday, April 19 from 11am to 1pm. A religious service will follow Friday at 1PM with Pastor David Peterson, Centreville Baptist Church, officiating.  Interment will be in Prairie River Cemetery.  Memorial contributions can be given to the family.
Arrangements were entrusted to Eley Funeral Homes, Centreville. Online messages can be left for the family at www.eleyfuneralhomes.com.