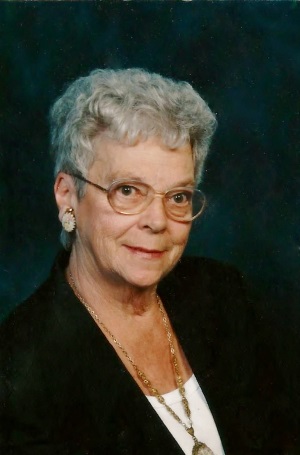 On Saturday, April 13, 2019 Marian Griner passed away peacefully in the home she loved. She was born to Fred Willis and Mary Jane Cook on July 16, 1931 in Gobles, Michigan. She grew up around Marcellus but graduated from Dowagiac High School in 1950. She worked at Ingersol Drug Store where she met Howard Griner. He became the love of her life and on May 19, 1951 they were united in marriage at the Marcellus Methodist Church. To this union they had two children Catherine (Mike) Smith and David (Ronda) Griner both of Marcellus.
Marian had many interests she was a life member of Eastern Star and was Worthy Matron several times. In 1957 Howard and Marian opened How-Mar Ceramics and later expanded and opened a craft barn so then it became How-Mar Ceramics and Craft Barn. She was a 4-H Ceramic Teacher for 25 plus years and was a judge different times for the Centerville Fair for Ceramics. During these years they had a Ceramic both and later a Watkins Booth at the fair. They loved being there and seeing the people. She held a Real Estate License and was a Level 2 Assessor for many years.
In 1983 she saw a need for people needing extra help and food, so she opened M.A.A.P. (Marcellus Area Assistants Program). With the help of many volunteers and generous donors M.A.A.P. was in operation helping local families until December of 2018. She loved helping people any way she could.
When Howard retired they would spend their winters at their home in Zephyrhills, Florida. They loved the sunshine and would travel all over on cruises and trips seeing the world. Everywhere they went they made new friends for life.
Preceding her besides her father and mother is two brothers Merl (Ed) Willis of Oregon and Bob Willis of Dowagiac, MI.
She leaves behind her loving husband of 68 years, a sister Harriett Miller of Florida, her two children, Catherine and David, Six grandchildren, Jim (Cheri) Smith, Michelle (Kevin) Drake, Tori (Tim) Spansail, Travis Griner, Brytani Griner, Ben Griner. Four great-grandchildren Mercedes Smith, Ashton Griner, Peytan Griner, Parker Drake and many nieces and nephews.
The family would like to welcome friends for visitation on Thursday, April 18, 2019 at 10:00 AM at Mater-Ralston Funeral Home, with the funeral service to be held the same day at 12:00 PM and burial to follow at Marcellus Cemetery. Memorial donations may be directed to the Hospice of Southwest Michigan. Online condolences may be left at www.materralstonfuneralhome.com.