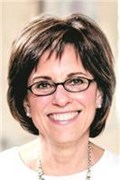 Linda G. Carver, a radiant, positive force in so many lives passed away peacefully, surrounded by family and friends on Saturday, July 20th, 2019 at the age of 65.
Linda was born in Lakeview, Ohio on September 23, 1953 to Tony and Laverne Sorchy. Her family later moved to Sturgis, where she met the love of her life and husband of 44 years, Robert "Gus" Carver. The couple relocated to Longwood, Florida and welcomed two children into their family, Megan and Michael "Mike", who she absolutely adored. They eventually relocated to Cedarburg, Florida to raise their children near family.
Linda was full of life, passionate and fascinated by all types of people. Linda had an uncanny ability to connect with everyone she met in a deep and positive way. Her career as an interior designer gave her the opportunity to meet people every day. Working at McNabb and Risley for 20 years she loved getting to know her clients and transforming their houses into homes. One of Linda's biggest sources of joy came from spending quality time with family and friends and seeing her grandchildren grow and learn new things. She was also an avid gardener and loved cooking, listening to Andrea Bocelli, the Eurythmics or India Arie while she prepared meals for her family.
Linda's life will be celebrated on Saturday, July 27 at Saint Boniface Episcopal Church (3906 W. Mequon Rd. Mequon, WI 53092). Receiving of family and friends will begin at noon and the memorial service will be held at 2:00 p.m.
She is survived by her husband, Robert "Gus"; daughter, Megan Elizabeth (Michael Thibaudeau); son, Michael Robert (Angela); grandchildren, Jackson, Grayson and Benjamin and brothers, Tom Sorchy (Valerie) and Terry (Nancy) Sorchy. She was preceded in death by her father, Anthony Sorchy, mother, Laverne Sorchy and brother Tim Sorchy (survived by Barbara). In lieu of flowers, donations can be made in Linda's honor to Saint Boniface Episcopal Church 3906 W Mequon Rd, Mequon, WI 53092 or St. Jude Children's Research Hospital (stjude.org).
On-line condolences may be left at www.eernissefuneralhome.com