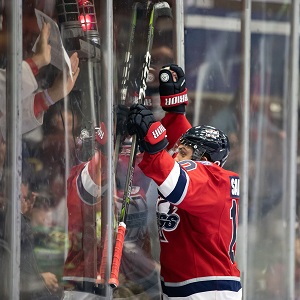 A fast start by the Kalamazoo Wings was not enough on Wednesday night as the Cincinnati Cyclones came back from a 3-1 deficit to defeat the K-Wings 4-3 at Wings Event Center. The K-Wings hosted their first annual Lavender Ice Game for the first ever Hockey Fights Cancer night to Kalamazoo.
Taking a 3-1 lead after the first period, the K-Wings seemed poised for a good night on home ice.  However, the Cyclones didn't let the fast start deter them as they mounted a comeback to claim the victory.
Matt Iacopelli scored the first goal of the game just 24 seconds into the opening frame to give the home team the early 1-0 lead. The goal by Iacopelli was his first of the season.
The Cyclones tied the game midway into the period on a goal by Mason Mitchell.
Proving that good things come in twos, Iacopelli struck again for his second of the night just under a minute after the goal by Mitchell to put the K-Wings up 2-1.
Minutes later, Dylan Sadowy scored his team and ECHL leading 12th goal of the year to give the K-Wings a 3-1 lead after one period.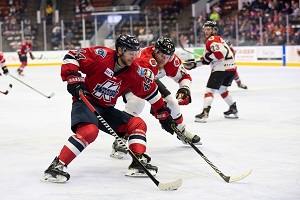 The Cyclones added a pair of goals in the second period to tie the game 3-3. John Edwardh and Nate Mitton scored the goals.
Taking the lead in the third, the Cyclones Ben Johnson scored the eventual game winner just seconds after a penalty on the K-Wings expired.
Both teams came up empty on the power play.  The K-Wings out shot the Cyclones 26-25. Jake Hildebrand was in goal for the K-Wings.
The K-Wings hit the road for a five-game road trip that begins Friday at 7:35 p.m. against the Cyclones at Heritage Bank Arena in Cincinnati. Kalamazoo then faces Toledo Saturday at the Huntington Center at 7:15 p.m., and finishes a three-game weekend Sunday against Brampton at 2:00 p.m. at CAA Centre.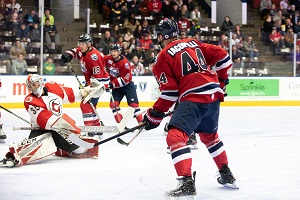 The K-Wings return home on Sunday, December 1st for the Annual Teddy Bear Toss Game.
By: Mark C. McGlothlen
Photo Credit: Kimberly Moss Photography