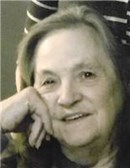 Connie Marie (Persing) Feister, age 72, of Sturgis, passed away Friday afternoon, Feb. 7, 2020, at Thurston Woods Village in Sturgis.
She was born May 20, 1947, in Sturgis, a daughter of the late Robert and Ruby (Kime) Persing.
Connie was a longtime Sturgis resident and also had lived in Florida.
She retired from Walmart in Sturgis following more than 15 years of employment. While she was living in Florida, she owned and operated a day care center for several years. She enjoyed reading and crossword puzzles.
Connie is survived by two sons, William (Alexa) Burke of Angola, and Corey Burke of Sturgis; a daughter, Kellie (Michael) Stidham of Sturgis; four grandchildren, Nicole, Dustin, Brooke and Kylie; a great-great-grandchild, Piper; a sister, Linda Carpenter of Sturgis; two brothers, Chuck Persing of Sturgis and Bob Persing of Jackson; and several nieces and nephews.
She was preceded in death by her parents; and a daughter, Jessica Lyn Feister.
In accordance with her wishes, cremation has taken place. The family will receive friends from 5 to 8 p.m. Wednesday at the Rosenberg Chapel of Hackman Family Funeral Homes, 807 E. Chicago Road, Sturgis. Private burial of the ashes will take place at Oak Lawn Cemetery in Sturgis.
The family suggests those wishing to make a memorial donation in Mrs. Feister's memory consider American Cancer Society , P.O. Box 22718, Oklahoma City, OK 73123.
Her obituary is also at www.hackmanfamilyfuneralhomes.com, where personal messages of support may be left for the family.