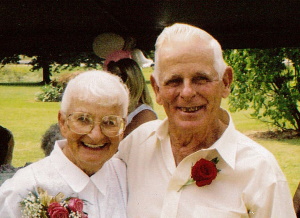 Elwin Earl "Bud" Holtz, and Mable Alice (Denney) Holtz both passed away peacefully just 10 ½ hours apart at the family home in Fulton.
Elwin died Tuesday evening, Feb. 4, 2020 at the age of 92. He was born in Scotts, MI on June 24, 1927 the son of the late Earl Lewis and Melva Mae (Wilcox) Holtz and was a fourth generation, life-long resident of Wakeshma Township. He attended Athens area schools and served in the U.S. Army Corps of Engineers during the Korean War. He worked at the Lee Paper Mill, Oliver Aviation, Kalamazoo Stove Company, and Checker Motors. He was a successful farmer and careful steward of the soil. He enjoyed sports, and played on a very successful Leonidas Softball team. He was a fan of the Detroit Tigers and the Detroit Lions.
Mable died early Wednesday, Feb. 5, 2020 at the age of 88. She was born in Mendon Township on March 5, 1931 the daughter of the late Frederick and Goldie Mae (De Hoff) Denney. She graduated from Colon High School, attended Michigan State University, and earned her Bachelor's and Master's degrees from Western Michigan University. She taught eleven years in one-room schools, and for 19 years at Union City Schools. She had also worked at Lamb Knit, Sutherland Paper Company, Burgess Seeds, and the Haas Corporation. She was first and foremost a dedicated teacher and worked tirelessly on the family farm.
Mable and Elwin were married in 1953 and they enjoyed their 66 years together. Elwin played softball with Mable's four brothers and her father was the umpire, so he had to be on his best behavior. They loved to travel and visited 49 of the 50 states. They also visited England, France The Netherlands, Germany, Switzerland, Finland, Norway, Sweden, and Australia. They joined a research group from the University of Michigan on a 600-mile trip down the Amazon River. Their concerns for the environment led them to a successful fight against the establishment of a landfill in Wakeshma Township. Mable firmly believed that liberty is the inalienable right to stick your nose in the government's business.
Elwin and Mable are survived by a daughter, Mary Alice Searer of Grand Haven; granddaughter, Sara K. Searer of New Port Richey, Florida; great-grandchildren, Sophia and Benjamin.
Mable is survived by sisters Patricia Shepler-Carter of Athens, and Dolores Loker of Vicksburg. She was preceded in death by four brothers, Arthur, Frederick, William, and Pete Denney; and by four sisters, Alma Guthrie, Doris Denney, Mary Denney, and Bertha Smith. Elwin was preceded in death by a sister, Lucille Pierson and a brother, Lee Jay Holtz.
Visitation will be from 2 to 4 pm on Sunday at the Eickhoff Funeral Home in Mendon. Funeral services for Elwin and Mable Holtz will be at 1 pm Monday, Feb. 10, 2020 at the funeral home with Pastor Noah Miller, Pastor of Peace Community Christian Church officiating. Interment will be in North Fulton Cemetery with military rites for Elwin. Condolences and memories may be shared online at www.eickhofffuneralhome.com