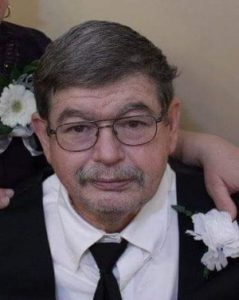 Eugene C. Burkey, age 69, of Mottville, passed away on Thursday, February 13, 2020 at Borgess Hospital. He was born in Elkhart on February 4, 1951, a son of Max and Clara (Akin) Burkey. He graduated from Elkhart High School in 1971. On August 14, 1971, he married Brenda Miller at the Mason Baptist Church in Cassopolis.
Eugene previously worked for MMPA in Constantine, Babcock Wilcox in Elkhart, and NIBCO in Elkhart. He was an active member of Mason Baptist Church. He enjoyed woodworking and hand carving all sorts of projects including guns, knives, jewelry, and cribs. Eugene was a member of the National Muzzleloader's Association and enjoyed participating in Primitive Rendezvous in Kendallville, Bristol, and Ligonier. Eugene loved to rollerskate and play the banjo.
He is survived by his wife Brenda Burkey of Mottville, son Robert (Larry Fullhart) Burkey of Bristol, daughter Tena Burkey Zimmerman of Mottville, granddaughter Natasha (Caleb) Miller of White Pigeon, a great grandchild on the way, sister Karla (Jim) Sweat, Jr. of Constantine, brother-in-law Ed Bradford of Mottville, and several nieces and nephews.
He was preceded in death by his parents and sister Cheryl Bradford.
Relatives and friends will be received at Eley Funeral Home, Constantine, Saturday, February 22, 2020 from 11am to 1pm, with religious services following at 1pm. Pastor Tim Liechty, Mason Baptist Church will officiate. Interment will follow in Mottville Township Cemetery.
Online messages can be left for the family at www.eleyfuneralhomes.com.