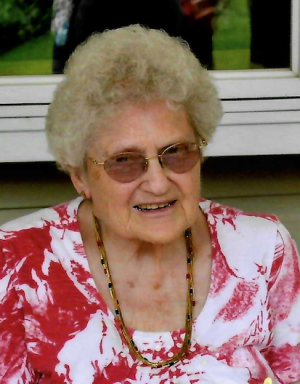 Audrey (Sweet) Hartman, age 92, of Constantine, passed away on Wednesday, May 6, 2020 at her home.
Audrey was born in White Pigeon on August 31, 1927, a daughter of Ray and Cynthia (Wagar) Sweet. Audrey graduated from White Pigeon High School in 1945 and later attended Glen Oaks Community College. On August 4, 1946, she married Harold Hartman in Constantine; he preceded her in death on October 13, 1998.
Audrey worked at Days Molding and Vaupell Industries in Constantine. She was a member of Constantine United Methodist Church, Meek's Mill Garden Club, Friends of the Library, and she enjoyed playing cards with the Thursday card club at the Lutheran Church and serving as a Hospice Volunteer.
Surviving are her daughters Wilda Haskins of Centreville, Annette (Gary) Webster of Motttville, and Susan Vaillancourt of Three Rivers; grandchildren Erin Webster, Betsy (Daniel) Chappelle, Joe (Olivia) Haskins, Brenda (David) Chappelle, Nate (Lisa) Vaillancourt, Dana Hartman, and Allison (Rob) Napper; great grandchildren Dylan Chappelle, Lucas Chappelle, Scarlett Chappelle, Hannah Chappelle, Claire Haskins, Maisey Stafford, Harold Haskins, Ashton Vaillancourt, and Jamison Vaillancourt, Atilyn Vaillancourt, Alex Napper, niece Mary Ann (John) Trattles, gt. niece Katy Trattles, sister in laws Jane Hartman and Norma Hartman.
She was preceded in death by her parents, husband, son Thomas Hartman, son-in-law Harold Haskins, brother Warren Sweet, and sisters Mary Emma Oxley and Mabel Galleher.
According to her wishes, cremation has taken place. Private family interment services will be held in Constantine Township Cemetery. Public memorial services will be held at a later date.
Memorial contributions may be directed to Constantine United Methodist Church and Three Rivers Hospice and Home care. Arrangements are being handled by the Eley Funeral Home in Constantine. Online messages may be left for the family at www.eleyfuneralhomes.com.