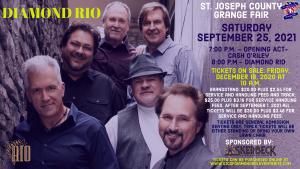 St. Joseph County Grange Fair is bringing back a popular component from its past.
Fair officials said a final-night concert will return in 2021, as it has secured country act Diamond Rio.
Fair board member Mindy Timm said the Nashville-based band will perform Sept. 25.
Timm said the six-member act was secured to perform in 2020 but the show, like the fair itself, had to be canceled. Timm said she was thrilled the fair was able to work with Diamond Rio and keep the act on its entertainment roster for 2021.
Tickets go on sale at 10 a.m. Friday and will be available through the internet only. Timm said seating is general admission. Grandstand seats are $20 and track seating is $25.
A link to the website for ticket purchase can be found on the fair's website: centrevillefair.com.