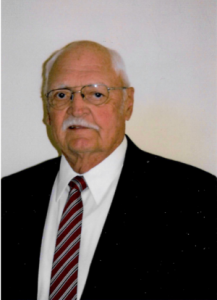 Friedrich Johann Henningsen, age 86, of Sturgis, passed away Tuesday, December 8, 2020 at Three Rivers Health.  Fred was born in Jackson on March 24, 1934, a son of Heinrich and Frida (Jurgensen) Henningsen. He graduated from Jackson High School in 1951.  Fred earned his Bachelor's and Master's Degrees from Michigan State University in 1956 and 1959, respectively, studying Dairy Production and Management.
On September 21, 1957, he married Doris Kowalk in Dewitt. She preceded him in death in 1979.  On June 20, 1981, he married Anita (Fotis) Gustafson. She preceded him in death in 2010.
Fred worked the majority of his life for the MSU Extension Office, spending 8 years in Van Buren County and 24 years in Centreville.  He served on and was past president of the St. Joseph County Fair Board for 15 years.  Fred also served 6 years on the United Way Board of Directors, 2 years with the Great Lakes Water and Resource Commission, and 3 years with the Michigan Ground Water Advisory Council.  He was a member of the First Presbyterian Church in Sturgis.  Fred loved spending time with his family and grandchildren, especially going to all of their sporting events.
Surviving are his children Laurie (Jon) Krum of Schoolcraft, Cheryl (John) Adams of Georgia, Matt (Cindy) Henningsen of Sturgis, and Eric (Hanna) Gustafson of SC, grandchildren Blake (Jenna) Krum, Grant Krum, Rachel (Brett) Kieffer, Christian (Laura) Adams, Cole Adams, Michael Henningsen, Matthew Henningsen, Robbie Gustafson, and Ethan and Eliot Jordan, and great grandchildren; Kade and Nora Kieffer, and Juliana Adams.
Due to the current restrictions, no public services will take place.  If you would like to show your support for the Henningsen family, you may view Fred's procession on M-86/Main St. in Centreville (between Clark St. and Nottawa St.) at 1:15 PM on Saturday, December 12.
Private graveside services will be held at Prairie River Cemetery in Centreville, with officiants Pastor David Webber and Jeff Coney (Director of Children and Youth Ministry), Sturgis Presbyterian Church.
Memorial contributions can be given in Fred's honor to: Centreville Future Farmers of America (190 Hogan St, Centreville, MI 49032), Sturgis First Presbyterian Church (1320 South Lakeview, Sturgis, MI 49091), or Michigan State University 4-H Foundation (446 West Circle Drive, Rm 160, East Lansing, MI 48824 or online @ https://mi4hfdtn.org).
Arrangements were entrusted to Eley Funeral Homes, Centreville.  Please visit www.eleyfuneralhomes.com to sign Fred's online guestbook and to leave messages for the family.