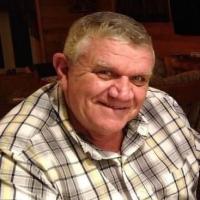 Garold L. Whitehead, age 72, of Wetmore, Mich. and Three Rivers, died following a brief illness under the loving care of Tim, Susie and family at their home on Friday afternoon, December 4, 2020. He was born in Kalamazoo on June 17, 1948 to Paul and Marguerite (McDonald) Whitehead.
Garold grew up in Three Rivers on the family farm, graduating from high school in 1966. He attended trade school and began his career as a tool and die maker and machinist. Garold worked at various tool and die shops. From 1970 – 1975, he was part owner of Three Rivers Tool and Die. Garold married Janice M. Altine on April 10, 1976. He then began his own business, Whitehead Tool and Die, successfully along with other business ventures until the time of his death.
As a child, the Whitehead family vacationed every August in the Upper Peninsula. Garold fell in love and always dreamed of retiring in the U.P. But anyone that knew Garold, knew he would never stop working. In 1985, Garold designed and helped build a family cabin off Highway 13. In 1997, he purchased the White Fawn Lodge and in 1998, he purchased the Forest Glen Resort and combined the two resorts while continuing to run his businesses downstate.
He was a member of the Lockport, Fabious and Park Townships Fire Department for more than ten years. Garold joined the Singing Crusaders male chorus of Kalamazoo where he was able to travel across the state and country singing Christian hymns. He was a proud supporter of the U.P. Whitetails Association. Garold was a member and served as president, '85-'86, of the National Tool and Machine Association, Kalamazoo Chapter.
In 2013, the American Legion awarded Garold the Americanism Medal for showing exemplary service to the country and its vets when he designed and built a beautiful memorial on Straits Lake Road. He also created the metal Veterans' silhouettes at the Serenity Pines Cemetery in AuTrain. Garold enjoyed walking the Mackinac Bridge on Labor Day with his family and friends. He enjoyed snowmobiling, cooking, and sharing his homemade ice cream everywhere he could. Garold was a hardworking businessman who loved being a grandfather.
Garold is survived by his wife – Janice Whitehead of Wetmore; children – Nicole Whitehead of Three Rivers, Joey (Carol) Whitehead of Three Rivers, Katie Whitehead of Munising, Susie (Tim) Palomaki of Munising, and George (Tabitha) Whitehead of Wetmore; grandchildren – Rachel, Emily, Taylor, Makayla, Hannah, Jacob, Joshua, Joseph, Rebekah, Logan, and Cole; great-granddaughter – Elena, who he named one of his tool and die businesses after; brother – James (Kay) Whitehead of Galesburg; sister – JoAnn (Lewis) Roberts of Three Rivers; numerous nieces and nephews. Garold was preceded in death by his parents Paul and Marguerite, and his grandson Jonathon.
Per Garold's wishes, a closed casket visiting time with family and friends will be held at the Bowerman Funeral Home in Munising on Friday, December 11, 2020 from 1 until 4:45 p.m. COVID precautions and attendance regulations will be observed as directed by the MDHHS. Masks will be required, and the funeral home staff will be assisting with social distancing. If able, it is requested that if your last name begins with A – I, please attend between 1 to 2 p.m.; J – R, 2 to 3 p.m.; S – Z, 3 to 4:45 p.m. Rev. Sandra Kolder will conduct Garold's funeral service in the funeral home's chapel at 5 p.m. Interment will be at the Munising Township Cemetery in Wetmore on Saturday, December 12, 2020 at 10 a.m. A memorial service will be celebrated in Three Rivers spring of 2021.
In lieu of flowers, memorials are requested to be made to a charity of one's choice in Garold's name. His obituary and online guestbook may be found at bowermanfuneralhome.net.