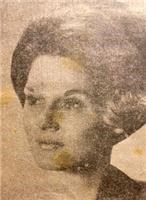 Joy Anne Prey of Plymouth, MI passed away on Sunday, Jan. 10, 2021 from complications with dementia. She, along with her twin sister Janice were born on Oct. 5, 1945 in Three Rivers, the daughter of Ernest and Anne (Schmitt) Baker. Joy was a 1964 graduate of Mendon High School. She then attended and graduated from Wright Beauty Academy in Battle Creek. After working in the cosmetology field, she took a job at Upjohn Pharmaceutical in Portage where she met the love of her life, Paul Prey.
Joy and Paul were married at St. Edward Catholic Church in Mendon on June 21, 1969. Shortly after, Paul was drafted into the Army where he served as a chaplain's assistant in Vietnam. While there, their first son, Christopher was born. Upon Paul's return he landed a job at Chrysler and they settled in Westland, MI to raise their family. Joy enjoyed raising her two sons, Chris and Tony, and was their biggest fan on the sports fields and the courts. She was an excellent cook who also enjoyed traveling the world on cruises, attending family functions, and loved to play the penny-slots at the nearest casino.
Joy is survived by her husband, Paul; sons Christopher (Lucy) Prey of Albuquerque, NM and Tony (Sandy) Prey of Denver, CO; grandson, Christopher Nolan; step-grandsons, Alex and Mike Nolan all of Albuquerque; sisters, Norma Ferguson of Oklahoma City, OK and Theresa Baker; brothers, Tim (Chris) Baker of Vicksburg and Joe (Dee) Baker of Mendon; several nieces and nephews. She was preceded in death by her parents, Ernest and Anne Baker; sisters, Sandy (Dave) Millar and Janice Seiler; and brother, Tommy.
Special thanks to niece, Kim Condon and husband Tom of East Grand Rapids; cousins, Mary Lou Jepsen and Kathy Spence; friends and classmates, Sue Griffith and Diane Riley all of Mendon for their help and support through this ordeal.
The family will receive friends from 5 to 7 pm Friday at the Eickhoff Funeral Home in Mendon where the Rosary will be recited at 6:45 pm. Masks and distancing with a limit of 25 at any one time is required. A family funeral mass will be 12 noon Saturday, Jan. 16, 2021 at St. Edward Catholic Church in Mendon with Msgr. Thomas A. Martin officiating. Cremation will follow services. A video of the mass will be available on the funeral home website later in the day. Memories and condolences may also be shared with the family at www.eickhofffuneralhome.com
It is suggested that contributions in Joy's memory be directed to either the Alzheimer's Association at www.alz.org , or to the Cystic Fibrosis Foundation at www.cff.org