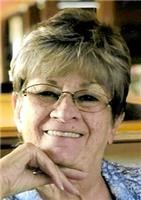 Charlotte Louise Parisot, age 73, of Sturgis, passed away Wednesday, Feb. 3, 2021, at Ascension Borgess Hospital in Kalamazoo.
She was born Oct. 21, 1947, in Detroit, a daughter of the late Phillip and Gertrude (Hughes) Selman.
Charlotte had been a resident of Sturgis for more than 45 years, moving here from the Detroit area.
She was first married to Don Merkle, and this ended in divorce after 37 years. She then married Larry Nielson, who preceded her in death, then Thomas Parisot from 2012 to 2015.
She was a homemaker while the children were young, then was employed as a teacher's aide at Wenzel School, then managed restaurants for more than 20 years. She was a member of First Baptist Church and enjoyed spending time with her family as her children, grandchildren and great-grandchildren were the love of her live and her life revolved around them.
She was a born-again Christian who loved the Lord with all her heart. She was kindhearted, caring and showed unconditional love to all she knew.
Surviving are her children, Donna (Albert) Miller, Kathleen Draime, Norman Merkle, Charlotte Brockman, Donald Merkle III, Carolyn (William Key) Merkle and Isaiah Merkle; two stepdaughters, Linda Carr and Rhonda Parker; 15 grandchildren; 11 great-grandchildren; two sisters, Dolores (Dennis) Barth and Susan Kane; a brother, Phillip Selman; and many nieces and nephews.
She was preceded in death by her parents; four sisters, Patricia Sessler, Phyllis Brown, Pauline Mathews and Rosemary Mogg; and a brother, Charles Selman.
The family will receive friends and relatives 11 a.m. to 1 p.m. Tuesday, Feb. 9, 2021, at First Baptist Church. Services celebrating the life of Charlotte L. Parisot will take place at 1 p.m., immediately following visitation, Tuesday at the church. The Rev. Matt Taylor will officiate. Interment will follow in Oak Lawn Cemetery.
Her obituary is also at www.hackmanfamilyfuneralhomes.com, where personal messages of support may be left for the family.