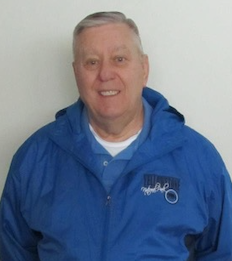 Richard G. Mantey passed away peacefully on Monday, February 1, 2021 at his home in Constantine. He was born April 1, 1941 in Toledo to the late Harvey and Ruth (Townsend) Mantey, who had six children: the (late) Harvey Jr., Flora, Richard, Ellen, Imogene, and Terrance.
After high school, Richard served seven years in the Air Force. He graduated from Washtenaw Community College in Ann Arbor. He was an electrician.
Richard's children are Ronald Mantey, Kathy Grant, the late Penny Mantey, and Jonathan Mantey.
In 1984, Richard married Joyce Dickens. They met at General Motors from where they both retired. Her children are Marty (Lois) Dickens, the late Michael Dickens, and Michelle (Edward Helm) Dickens.
Richard and Joyce made their home in Sturgis, and then Constantine. Together they raised their adopted granddaughter Mariah Mantey, and helped raise their grandson Justin Mann. Richard was an avid golfer, and Joyce joined him in outdoor activities including boating and fishing, visiting friends, and working jigsaw puzzles.
In 1984, Richard made his choice to serve the Lord. Both family and friends alike consider him a pillar of faith. He will be dearly missed by his loved ones, including his wife, children, grandchildren, great grandchildren, siblings, nieces and nephews, and many friends.
The family wishes to extend a special thank you to Three Rivers Hospice and to Beacon Health Oncology at Elkhart General Hospital for all their kind and excellent care.
Cremation has taken place, and a memorial service will be held at a later date. Please visit www.eleyfuneralhomes.com to sign Richard's online guestbook, and to leave a message for the family.