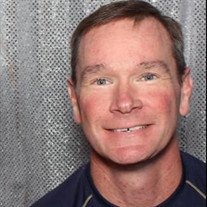 On Saturday, May 1, 2021, Mark Donald Holloway, loving husband and father of four children, passed away at the age of 51, after a twelve year battle with cancer.
Mark, son of Donald Arthur Holloway and Suzanne Irene (Celmer) Holloway, was born February 15th, 1970 in South Bend. Mark was the third born of eight children and enjoyed growing up in a large, loving, Catholic family.
Mark graduated from Marcellus High School in 1988. He began his college education at Lake Superior State University, where he earned his Bachelor's degree in Criminal Justice. He continued his education at Grand Valley State University, obtaining a Masters in Public Administration. During this time, he worked as a GVSU campus police officer and met the love of his life, Barbara. Mark and Barb were married at St. Michael's Catholic Church on October 4, 1997.
Mark was incredibly proud of his work as a United States Deputy Marshal. Mark's career took the family to El Paso, TX for four years, where both his sons were welcomed into the world. Mark served 27 years for the government before retiring from the position of Acting Senior Deputy Marshal, of Kalamazoo, in March of 2021.
Mark was a devoted, loving husband and father who loved nothing more than spending time with his family and friends. Mark loved Notre Dame Football, attending his kids sporting events, shooting, hunting, fireworks, and family vacations – especially family vacations to Walt Disney World. He loved celebrating all holidays, but Christmas was his favorite so he could spend time with his family. He was an active and dedicated volunteer at St. John Bosco Catholic Church, but most importantly raised his children to love and serve God.
Mark is survived by his wife Barbara Holloway of Lawton; children Emily, Adam, Jonathan, and Gabriella of Lawton; siblings Matthew (Becky) Holloway of Marcellus, Carolyn (Brian) Boyer of Marcellus, Carla (Janis) Gaikis of Decatur, Caren (Brian) Lamoreaux of Decatur, Michael (Angela) Holloway of Shelby Township, Mitchell (Elaine) of Brighton, and Cathleen Holloway of Spring Lake; aunts Pamela VanDyken of Rockford, Joyce (Denny) Dee of Michigan City, Joan (Dennis) Laughlin of Chicago, and 22 nieces and nephews.
Mark was preceded in death by his parents, Donald and Suzanne Holloway; grandparents Clement and Irene Celmer, and Arthur and Ferol Holloway; uncles Paul VanDyken, and Clement "Sonny" Celmer; aunt Beverly (Celmer) Calvert.
A visitation will be held Friday, May 7, from 5:00 to 8:00 pm at Mater-Ralston Funeral Home, 52780 M-40 North, Marcellus. A rosary will begin at 4:45 pm. Mass of Christian Burial will be held in celebration of Mark on Saturday May 8th at 11 am at St. John Bosco, 23830 Front St, Mattawan, Michigan. Father Alan Jorgenson will preside. Burial will follow at Rose Hill Cemetery, Lawrence Rd, Nicholsville, Michigan.
In lieu of flowers, memorial donations may be directed to St. John Bosco Catholic Church www.stjohnbosco.com or St. Jude's Children's Hospital, www.stjude.org/donate. Online condolences may be left at https://www.materralstonfuneralhome.com/