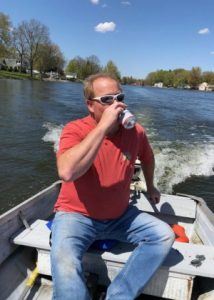 Michael J. Tom, age 54, of Colon, passed away unexpectedly Monday, June 14, 2021 at Ascension Borgess Hospital in Kalamazoo.
Michael was born on March 1, 1967 in Sturgis, a son of the late James Q. Tom and Lois A. Kline.
Michael graduated from Centreville High School with the class of 1985. Michael worked as a Millwright at IAC in Mendon for more than 30 years. Michael loved his family and meeting new people. Those that knew him often referred to him as "Mega Mike". You could always find Michael with either a fishing pole or a beer in his hands and a lot of times both. Michael was the type of guy anyone could call family.
Michael is survived by his children: Michael J. Tom II of Colon, Tara Lamons of South Carolina, and Christopher Tom of Michigan, his fiancé Karen Miller of Colon, and a brother David (Stacey) Tom.
Besides his parents, Michael was preceded in death by a brother Andrew Tom.
The Tom family will receive friends and relatives from 2 to 4 and 6 to 8 PM on Friday, June 18, 2021 at the Schipper Funeral Home. A funeral service will be held Saturday, June 19, 2021 at 3 PM also at the funeral home. Following the funeral, cremation will take place.