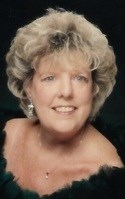 Nancy Annette Main, age 74, of Sturgis, passed away Wednesday afternoon, Jan. 6, 2021, at Advent Health in Orlando, Florida.
She was born July 12, 1946, in Lansing, a daughter of the late Robert C. and Bonita R. (MacQueen) Lindell.
Nancy had resided in Sturgis since 1967, coming from East Lansing.
On May 20, 1967, she married Michael D. Main at St. Thomas Aquinas Catholic Church in East Lansing.
She had worked part-time at Paper & More in Sturgis and was a dedicated homemaker, wife, mother and grandmother.
Nancy was highly involved in clubs and organizations and seemed to always find time to volunteer her time for others. Some of her many memberships and involvements include: Sturgis Newcomer Club, where she served as treasurer; Sturgis Hospital Gift Shop Guild; Past President of Sturgis Hospital Nursery and Pediatric Guild; Sturgis Hospital Visitors Information Guild; Sturgis Lady Elks; charter member of Sturgis Sweet Adelines; Klinger Lake Country Club; various bridge clubs; volunteered at Eastwood Elementary School; she was active in the Republican Party, where she served as a Delegate at the State and Local Conventions; member of Amos Sturgis Chapter Daughters of the American Revolution; and The Peoples Church in East Lansing.
She is survived by her dedicated husband of 53 years, Michael; three sons, Steven (Kathy) Main, Kevin (Sara) Main and Brian Main; and seven grandchildren, Ellen, Emily, Thomas, Megan, Michael, Abigail and Carrie.
She was preceded in death by her parents; and a sister, Linda Lindell Barnard.
A memorial service celebrating and honoring the life of Nancy A. Main will be held at 11:00 A.M., Wednesday, June 16th at the First Presbyterian Church in Sturgis. Pastor David Weber will officiate. The sharing of a meal and continued time of fellowship will follow the service at the Klinger Lake Country Club, 21050 US 12, in Sturgis.
Hackman Family Funeral Homes of Sturgis is entrusted with arrangements.
The family suggests those wishing to make a memorial donation in Mrs. Main's memory consider St. Jude Children's Research Hospital, 501 St. Jude Place, Memphis, TN 38105; or Shriners Hospitals, 233 Fulton Suite 102, Grand Rapids, MI 49503.
Her obituary is also at www.hackmanfamilyfuneralhomes.com, where relatives and friends may share memories and leave condolences for the family.