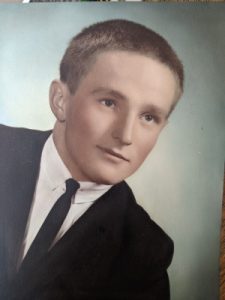 Charles D. Skeen, age 72, of Centreville, passed away Friday, Nov. 5, 2021 at Bronson Methodist Hospital in Kalamazoo. He was born January 30, 1949 in Sturgis, a son of Elmer and Anna "Chris" (Haney) Skeen. Charles attended Centreville High School with the class of 1967. He served in the US Marine Corp. during the Vietnam War from 1968 – 1974. On January 17, 1970 he married Lavada Wheeler at St. Paul's Lutheran Church in Centreville.
He retired from Lear Corp. / IAC, Mendon. Charles enjoyed his pets, woodworking, playing golf, and was a former member of the Boy Scouts.
Surviving Charles are his wife Laveda Skeen, Centreville; nieces and nephews Kristi Ruckert, Chris Luck, Mike Skeen, Percy Alvey, Annie Skeen, Richard Snyder, Cheryl Howe, Amy Decker, Doug Bickle, Ann Johnson, John Hofmeister, Miki Bender and George Schrader; sisters in law Charlotte (Dexter) Snyder; Karen (Dennis) Bickle, Sandy (John) Hofmeister; and brother-in-law Charles (Tressa) Wheeler.
He was preceded in death by his parents; brother Mike Skeen; sisters Nancy Skeen, Barbara Luck; niece Tonya Swanwick; nephew Jeff Schrader; and mother and father-in-law Marguerite & Charles Wheeler.
Memorial services will be held Friday, Nov. 12 at 4:00 pm at Eley Funeral Home in Centreville. Eric Ruckert will officiate, and military honors will be conferred. A private interment of ashes will be held at Prairie River Cemetery in Centreville.
Sign Charles' guestbook and leave a message for the family at www.eleyfuneralhomes.com.